A "Status of Open RAN" webinar this week saw Nokia, Viavi and Mavenir vying for attention on Open RAN. Did they succeed?
Nokia
Nokia broadly took the position that OpenRAN was, frankly, nothing that they weren't already doing (years before Open RAN became a "thing"). To be fair, they are perhaps the most progressive of the large RAN vendors. Announcements from mid-2020 show that they are at least open-RAN-ifying their offerings, in a package called Single RAN. Open RAN is explicitly referenced in their announcement regarding BT.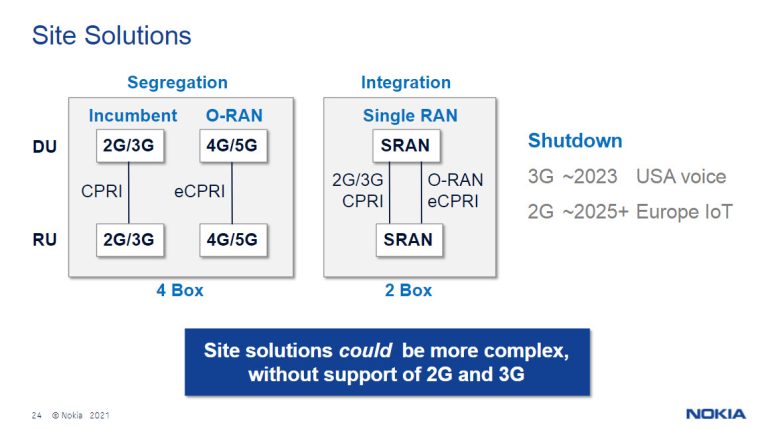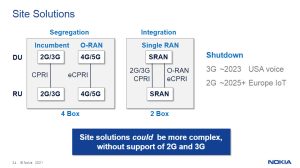 Work in progress
However they also itemized out the open RAN interfaces which, though identified, are not fully specified. As such, "there's no such thing as an end-to-end O-RAN compliant RAN". That may be true, though it hasn't prevented Rakuten putting into live operation, at scale, a RAN based on open principles.
Nokia called out as a reality check the number of feature requests they receive across the open RAN equivalents of Radio Unit, Centralised Unit and Distributed Unit. With parity of performance and features a non-negotiable aspect of customers procuring new kit, assuring it across such a huge matrix of variations is going to be a challenge for the industry.
Impact goes beyond RAN
They also highlighted how adopting Open RAN has consequential changes for the rest of the network – a virtualized Distributed Unit requires an edge cloud, for example – reinforcing that Open RAN isn't just about the RAN. (Some might argue that Open RAN isn't even about the RAN, but that's another blog).
Nonetheless Nokia is a serious contributor to multiple OpenRAN working groups, and it brings considerable experience of large-scale RAN and live operations to bear on shaping specifications. This commitment to active participation in open RAN appears to be feeding through to their product roadmaps.
Mavenir
Mavenir kicked off their participation with an absolutely correct reminder that "open RAN is not a technology" and went on to protest against the "fake news" that surrounds Open RAN – on security, performance and the like. They urged vigilance against vendors trying to "proprietarize" some of the interfaces in the O-RAN specs. Like Nokia, they stressed their 15-plus years' experience in virtualized RAN. They had time to reference their joint Realtime Intelligent Controller (RIC) development work with Airtel.
Tension in the room
The Mavenir/Nokia dynamic was interesting, hinting at the real tensions between incumbent vendors and software-first, cloud-native practitioners, even where they are committed to the same cause of disaggregated solutions and open interfaces. Don't hold your breath for a Mavenir/Nokia interoperability plugfest anytime soon.
Viavi
Viavi focused on the test aspects that open RAN introduces. In particular that operators will have to bear more of the burden of interoperability testing of open RAN components: RU, DU, CU and software, plus xApps and rApps. In a range of deployment architectures, and against a range of traffic conditions. It's a more than fair point. Until now, this test activity has been hidden from CSPs, conducted by their incumbent RAN vendor(s), and built into the overall cost. How many operators even appreciate what this will involve, let alone be willing to make the sort of investment required (in hardware, software, people) to take it on themselves? However, this is a completely foreseeable challenge, and, as with other aspects of open RAN, disaggregates the opportunity as well as the risk.
Takeaways?
In open RAN discussions, there is a danger that the big picture is overlooked. Yes, there are a lot of technical challenges to solve. Yes, the change will be gradual not overnight. But it's worth reflecting on the reality: that open RAN as a movement is already being successful in changing how the industry works. Mavenir is right, open RAN is *not* a technology, so we can't judge its success only by the parameters of technical innovation. Vendors who speak to that point will surely be more successful in gaining mindshare – and ultimately market share.
For more insights, check out Appledore's latest research on Open RAN Market, and on the evolution of the Test & Assurance market, including Viavi.