TelecomTV tapped a geyser with its Open RAN Summit…but was there more than just hot air?
There are two kinds of people in telecom. Those who already know Open RAN is truly revolutionary, and those who don't – yet.
TelecomTV's first Open RAN summit corralled perspectives from some of key flag-wavers in the vanguard of the revolution. Speakers included senior people with something worth hearing: most notably AT&T's Andrew Fuetsch, Vodafone's Yago Tenorio, Deutsche Telekom's Alex Choi but also from VMWare, RedHat, Commscope, Worldwide Technology, HPE, Nokia, Orange, Altiostar, NTT DoCoMo, Verizon, BT, Reliance Jio, Robin.io and ONF. An impressive roster, to be commended.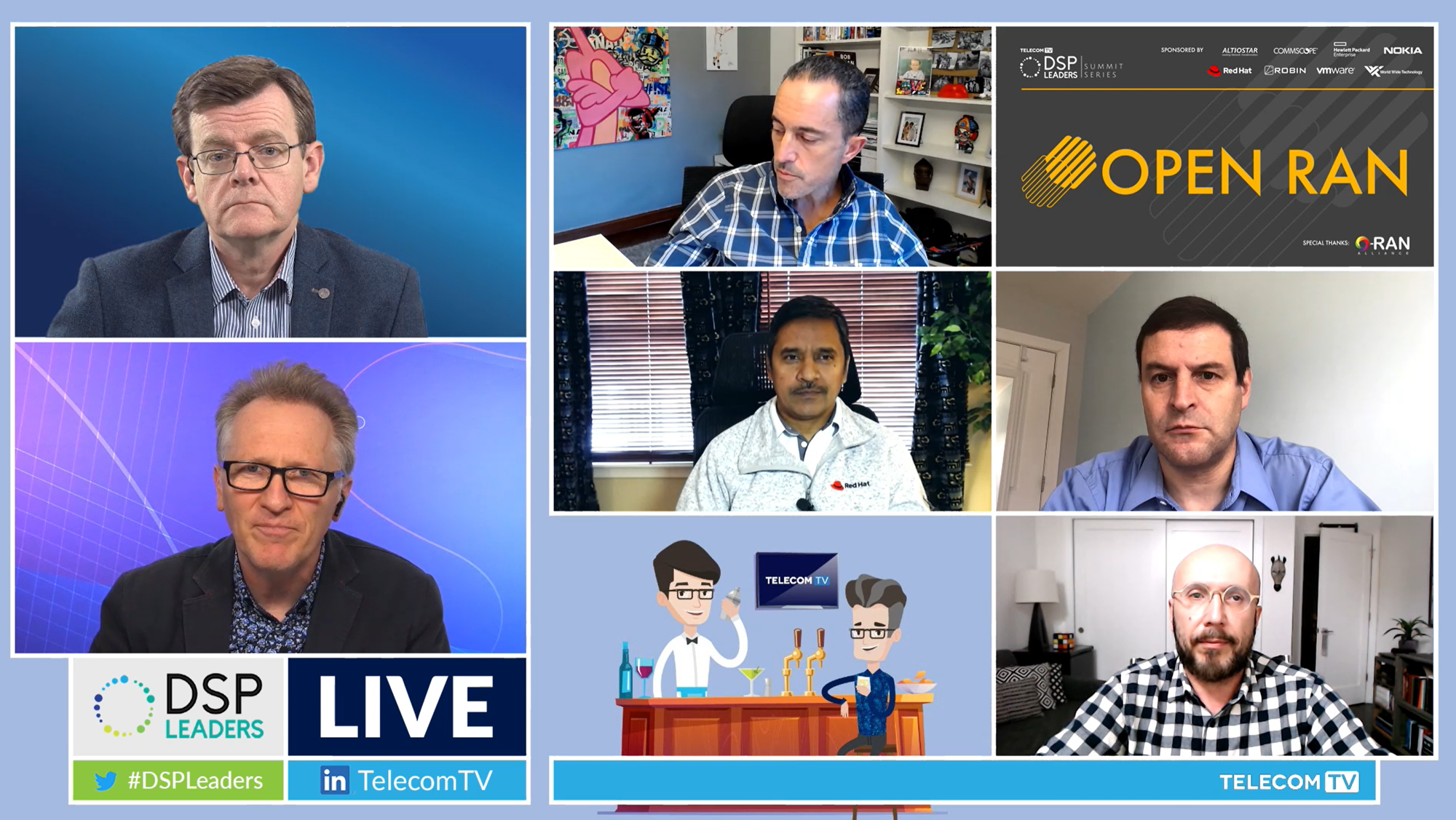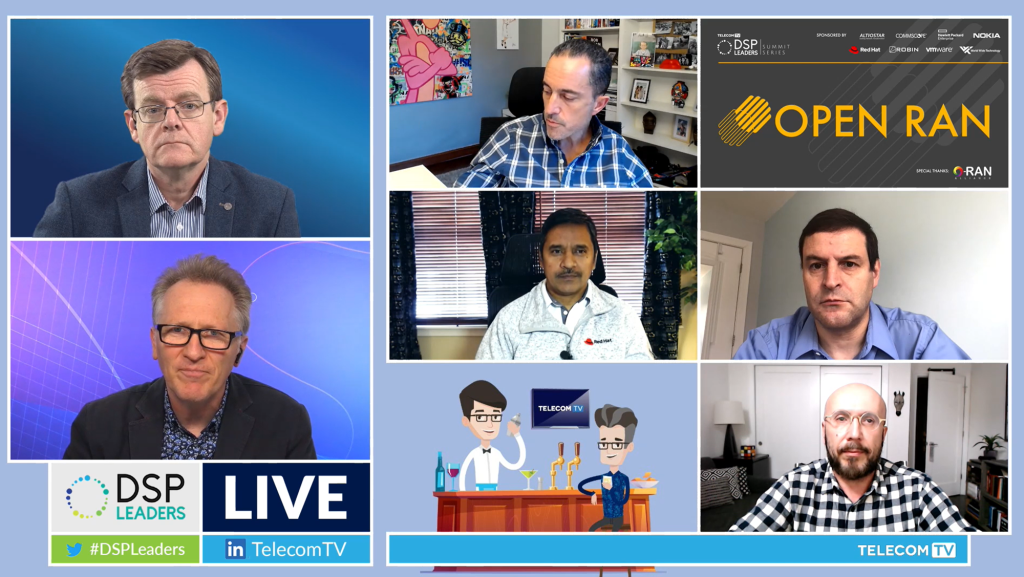 And while seasoned pros Ray LeMaistre and Guy Daniels might have made it feel like an after-show cocktail hour, don't be fooled: Open RAN is much, much more important than that.
That's not to say that Open RAN's success is guaranteed (or even all that clearly defined!), but the distinct forces, pressures, activities in and around Open RAN make it potentially the most impactful development in telecom for – literally – decades.
Just for clarity, in what follows I'll refer to "Open RAN" as the umbrella term for the movement (and it is a movement). You'll find more specific commentary on the pros and cons of OpenRAN, O-RAN, the open RAN Alliance, Open RAN Policy Coalition etc. in a hundred other places – though I'd recommend Appledore's Open RAN report and Parallel Wireless' website for detailed but readable explanations.
Is Open RAN a Technology?
It would be a mistake to view "Open RAN" as a technology. Arguably, from a functional perspective, it does precisely nothing new. That is to say, "Open RAN" delivers just exactly the same functionality as its conventional, "closed" alternative.
But that misses the point.
"Open RAN" is not a technology. It is a challenge to the norms of how the telecom supply chain works, and has worked, for decades. It's about radical change and a complete recalibration of how telcos, suppliers and standards organisations work together. It's now a cause.
Along the way, that cause has had some serendipitous boosts: fractious US-China relations (and by extension, EU-China); the impact of Covid and the re-routing of national economic trajectories; auctions for 5G spectrum. The effect of these has been to magnify the importance of numerous milestones being achieved in the Open RAN cause.
Which Operators Support Open RAN?
Which operator wouldn't want the benefits of lower-cost RAN rollout, lower maintenance and quicker delivery of new products to market? That's not really the issue. According to speakers, the real cost of Open RAN varies from operator to operator, and from vendor to vendor. Open RAN swaps a painful (but well-understood) certainty for something more aspirational, even if still a work in progress. The cost of change to the telco stacks up differently.
Where some operators are accepting of the organisational costs of disrupting their own supply chain (vendor relationships, procurement processes, product development cycles), others are more cautious. Where some (Vodafone, AT&T, Deutsche Telekom) are willing to roll their sleeves up and do their own systems integration, others just won't have the people to do that, and will have to outsource it. Who to, exactly, isn't yet clear, though there are obvious candidates.
AT&T, Deutsche Telekom and Vodafone offered clear statements on their commitment to rolling out open RAN. BT seems to be taking a slower path, referring to trials in labs where others have already live pilots in the field.
NTT has been a strong supporter of dis-aggregation and has already deployed a 4G Open RAN – and not in some green field, but in downtown Tokyo.
Where Vodafone sees a cost in learning how to integrate the sub-components of the RAN, it also sees a cost to having to rely on just two vendors for its network.
What are the Benefits of Open RAN?
Interestingly, interviewees and panelists seemed unable to settle on a single standout benefit. BT's Neil McRae suggested there was no real benefit, if viewed from a customer experience perspective.
Yet almost everyone foresaw sunlit uplands of flexible networks; choosing from a pool of clever specialist providers of software and hardware; plugging and playing throughout the network in response to an unlimited variety of customer needs. All enabled with project and solution blueprints provided by the Telecom Infra Project.
To be fair, the whole summit was a little light on numbers. Other than Vodafone's 2,600 OpenRAN sites by end 2021, and there-or-thereabouts expectations of 15-25% less RAN capex, there was not much real specificity on show.
Does that mean there's no business case for Open RAN? On the contrary – perhaps it highlights that the conventional methods of framing a business case for network technology just don't work for Open RAN. The geo-political, Covid-era, softwareization and cloud factors provide a unique set of drivers for change, only some of which can be squeezed into a typical Telco business case process. In Galileo's day, there were plenty of clever people on hand to prove that the sun revolved around the earth, "…and yet it moves!"
Growing the Ecosystem
There was a lot of discussion about the effective disaggregation of the RAN (and by extension, wider telecom) supply chain. Two things became clear:
Open RAN's success depends absolutely on there being more vendors in the market, working to clear subcomponent interfaces.
That ain't going to happen organically, fast enough
The Open RAN community, technically and politically, has strong early actors.  What's still TBD, or at least at an early stage, is the establishment of a new cadre of vendors with the sort of growth potential that excites investors. (Though thanks to Mike Dano at LightReading we have what looks like a ray of hope on that front.)
Admitting new suppliers must inevitably mean established vendors giving something up. By way of example, HPE stressed its long and deep heritage in servers as its likely focal role in an open RAN supply chain.
But traditionally conservative operators vary in the degree of practical (i.e. financial) intervention they are willing or able to make in the startup market.
Several speakers referred to providing open labs where vendor components of an Open RAN can be installed and tested. This is in concert with staged international plugfests organised by the O-RAN Alliance, TIP, ONF, telcos, and established vendors.
The Revolution Will be Virtualized
TelecomTV's summit wasn't the only Open RAN show in town this week. Foreign Policy's Nokia-sponsored exercise tapped into the same vein of radical change, albeit with a more governmental (well, US-governmental) angle. No less of a revolutionary agenda on show, though, as demonstrated by the US congress subsequently waving through $750M government funding for US-based 5G and open RAN businesses.
So – does Open RAN have all the answers? No. (There was some discussion about the complex challenge that is Massive MIMO which garnered some post-event commentary.)
Is its success assured? No. Rapid change to decades-old norms isn't easy or painless.
Is it important? Fundamentally.
TelecomTV's summit tapped into an Open RAN geyser that now cannot be easily switched off. Because Its source is years of simmering frustration, trapped beneath tectonic plates that are themselves now, for greater reasons, shifting.
And that should frame how we think about Open RAN. Because by now, there's only way to think about Open RAN: *seriously*. As operators, vendors, standards groups, policy wonks (and analysts), any discussion that limits itself only to the technical aspects will miss the far wider opportunity – or threat.
Further Reading:
Follow Appledore:

Picture credit: Image by Clker-Free-Vector-Images from Pixabay