New Research: Open RAN
The market for Open RAN solutions will grow to $11.2bn in 2026, according to our latest research report, "Open RAN – Opening the RAN Ecosystem", published today.
However, despite the significant potential for new entrants, Appledore predicts that the lion's share of that revenue will go to traditional incumbents, offering open-compatible versions of existing RAN components.
Systems integration of Open RAN solutions will offer the largest potential for new revenue – but will be competed for by a wider range of traditional and non-traditional vendors.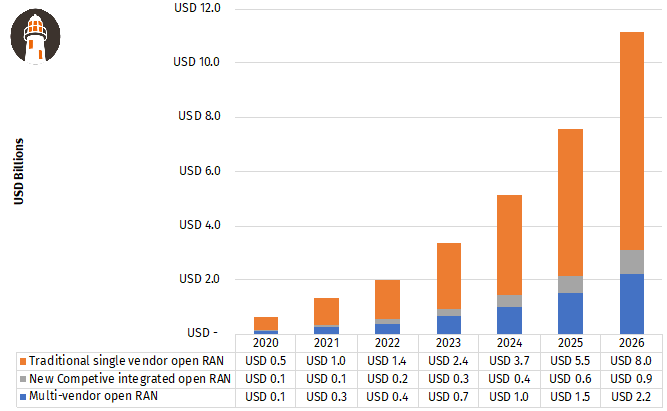 Open RAN unquestionably represents a disruptive new factor in the increasingly consolidated RAN supply chain. However, its stated objectives are as much political and organisational as they are technical, perhaps even more so. As a result, the ultimate success of open RAN will depend on much more than proof-of-concepts or pilot projects. In particular, it will depend on efforts by operators, governments, investors and industry consortia to establish a viable ecosystem of open RAN component providers.
In our view, Open RAN should not be viewed in a "just another G" sort of way. The unique confluence of cloud, mobile, network economics and global politics mean that there is much more at stake than an evolution in network technology.
We see Open RAN as offering a bridge into the promised land of a new, flexible, software-defined world in which genuine innovation, in unlimited variety, can be delivered to customers quickly enough to make a difference. In such a world, the parameters of value are redefined, or at least recalibrated: transparency and proven interoperability will matter at least as much as functionality and raw performance.
Appledore's 36-page Open RAN report identifies specific opportunities and threats for both incumbents and new (or previously pre-integrated) players, as well as for operators.
The new research draws on briefings with both traditional incumbents and new players, as well as the progress reports from the early pioneers in open RAN, such as Rakuten, Deutsche Telekom, Telefonica and Vodafone.
Download a free Executive Summary of the report (registration required).