Week Ending 18 December 2020
Another busy and productive week for Open RAN. This roundup covers the week's most notable stories, and finishes up with a list of resources that should be useful to anyone with an interest – but limited time!
Vendors
Accenture broke cover as the systems integrator power behind high-profile Rakuten's fully virtualized, cloud-native and open RAN-based business. It looks like this has been much more comprehensive support than has been publicly referenced to date, where much of the discussion has been about RAN disaggregation and hardware. No doubt the experience that Accenture has gained at Rakuten will be a trump card in priming other Open RAN rollouts globally – a position that seems up for grabs (but see NEC below).
Nokia's CEO reported a new focus on Open RAN – targeting leadership in Open RAN and vRAN for its Mobile Networks business unit. Nokia is already well established as being in the "pro Open RAN" vendor camp, but all the same it is notable to see this reinforced right from the top, especially given other recent organisational changes.
NEC announced its selection by Telefónica Germany as the system integrator in charge of delivering its Open RAN pilot, in concert with ADVA, Altiostar, GigaTera, Intel, RedHat, Supermicro and Xilinx. NEC's press release cites previous work within Telefónica by OSS/BSS firm Netcracker, owner of NEC. This suggests a new future for former OSS and BSS integrators. Combined with its experience on the radio hardware side, NEC looks to be another strong candidate for long term leadership on the Open RAN integration market space that Appledore Research called out this week.
In a similar vein to TIP (see below), Parallel Wireless announced a partnership with a Network-as-a-Service provider to bring all-G connectivity some 2,000 villages in Nigeria. Notable for the positive inclusion of government authorities in the project. This could well be a life-changing development for many thousands of people – will follow this with interest!
Operators
AT&T sees only good things from Open RAN, reported Linda Hardesty in FierceWireless. Cost savings – check! Rural AND urban benefits – check! Greenfield AND brownfield – check! Firm plan ("AT&T will deploy and implement open RAN.") – check! In recent months, AT&T has been positioning its Open RAN plans as a steady evolution of its network, rather than signalling a distinct program (unlike, say, Vodafone).
In an interview with SDxCentral, Rakuten continued to blur the lines a little on whether it is a pure CSP, and/or a supplier to CSPs (perhaps similar to what Nordic operator Elisa has been doing). Its Rakuten Communications Platform (RCP), developed with the assistance of Accenture (see above), is being marketed to aspiring 4G and 5G wireless CSPs. The outcome of reported conversations with DISH in the US will be an early boost (or blow) to the viability of the "Rakuten-as-a-Service" model.
Telefónica O2 Germany claimed Germany's first live Open RAN pilot. OK, it may only be three cities, but a larger scale rollout is planned for late 2021. Telefónica is highlighting an expected weeks-to-hours reduction in new service introduction. (Vodafone got the "first live Open RAN in Europe" sticker in Wales back in August.)
Associations and Programs
TIP (Telecom Infra Project) released a comprehensive package of news and materials around its blueprint for bringing internet connectivity to ultra-rural locations. Led by TIM Brasil, supported by local system integrators WLLCTEL, Zurich/Amerinode (proving the point, perhaps) and vendors BaiCells, Morningstar, Gilat, Airspan, Parallel Wireless, VNL and ST Engineering iDirect. The materials are well worth a read, as they demonstrate an entire supply chain for an Open RAN solution – from design and specs through testing and deployment.
There's a lot of congratulations to be shared on this effort. It's an impressive achievement, with solid ambitions and plans for expansion and replication. There are a lot of <5,000 person communities in the world who could really benefit from better information on weather, market prices, healthcare, traffic…
Market Research
Appledore Research released a major report on value, growth and makeup of the Open RAN market. Headlines were that while Open RAN will grow to be about a third of all RAN in the next five years, the bulk of CSP spend on it is likely to be with familiar trusted vendors – though that's no reason for complacency. There is a very useful exec summary available for free download, and the full report is available at a special rate through 31 December. Read the launch blog here.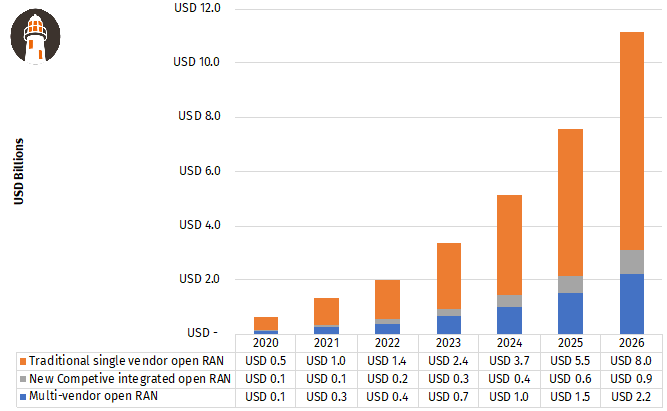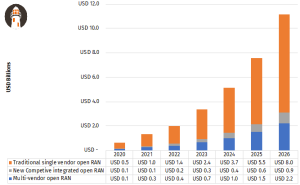 Not All Good News…
It wasn't all good news though. Light Reading reported on an Intellectual Property fly in the Open RAN ointment. To be continued, no doubt…
Best Open RAN Resources
My personal list of the most current useful resources on understanding Open RAN. Will update this as new materials are published:
This Week in Open RAN is a personal selection of news – please let me know if you want to highlight anything I've overlooked!