There were a lot of plus signs in the Rakuten Group presentation of its FY2022 figures today.
Rakuten is an internet company, working at internet speed, in an internet way. Its view of telecom is fundamentally different than how conventional telcos tend to regard themselves – even if some of its telco metrics are perfectly familiar: population coverage, ARPU, number of base stations. As an established group of businesses, in everything from advertising to travel, and fintech to fashion, Rakuten has more scope than a conventional telco for creativity in how it acquires, retains, and creates monetizable value from, its customers.
Group Results
Rakuten Group reported its FY2022 results, with growth in all of its three segments: Internet Services (+8.7%), FinTech (+10.8%) and Mobile (+62%).
Micky Mikitani highlighted that through the pandemic, the Group's eCommerce business had been strong. Post-pandemic, its travel business has picked up significantly. Rakuten's Advertising business has bucked the global trend, with 16% growth compared to an international fall in YoY growth rate (around 4.3%).
Rakuten's is an ecosystem strategy, and the company emphasizes its membership program and customers' purchase of multiple services across the group. Not only that, but it seeks to build practical, experiential synergies for its customers to encourage spend within its ecosystem – and mobile is a key part of that strategy. And not only in Japan. Global expansion was another theme, with Mikitani citing increased brand recognition for Rakuten in multiple geographies.
An overall operating loss of 325.6 billion yen (US$2.46B) was explained by the ongoing strategic spend in its Mobile division, which includes both Rakuten Mobile and Rakuten Symphony. Excluding Mobile, operating income was 177.4B yen, a rise of 9.6% on 2021.
Mobile
Mobile revenue was up significantly (62%) at 368.7 billion yen (US$2.79B).
At 4.5 million, the number of paying subscribers in Mobile is up 294% year on year. All of its subscribers became paying customers in September 2022. Operating losses "continue to contract".
Rakuten's initial plan for mobile had been a 7-year buildout. Instead, Rakuten accelerated that plan, based on a cloud-native and open vision, resulting in a higher rate of spend over a shorter period. Its mobile strategy now enters "phase 2" – establishing the profit structure of the business now that the buildout is largely complete with 98%+ coverage. Rakuten Mobile's "phase 3" will be accelerating customer acquisition (massively increasing its rivals' churn) to become Japan's #1 mobile service provider.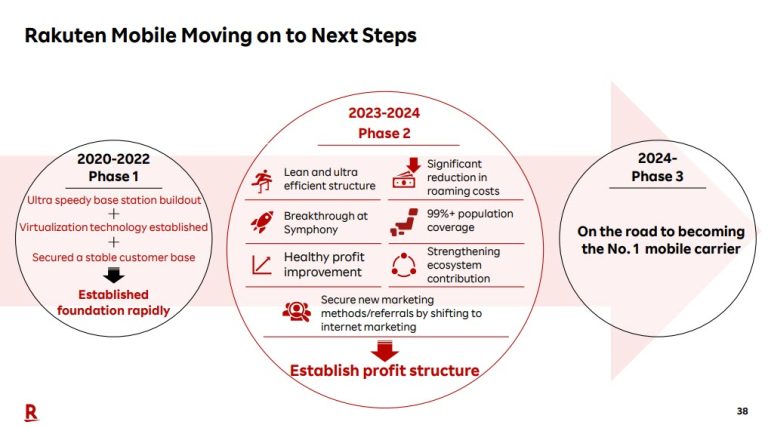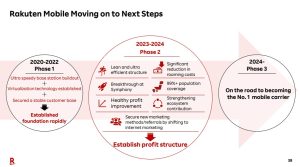 Courtesy: Rakuten
Network
The majority of Rakuten Mobile's 4G coverage is compete – around 15% of base stations (8,000 out of a target of 60,000+) remain to be built, by the end of 2023. During 2023, Rakuten will see a "drastic" decline in its cost base (an improvement estimated at around $110m per month).
Driving down roaming traffic (today around 4.2%) is a key objective in order to eliminate roaming costs.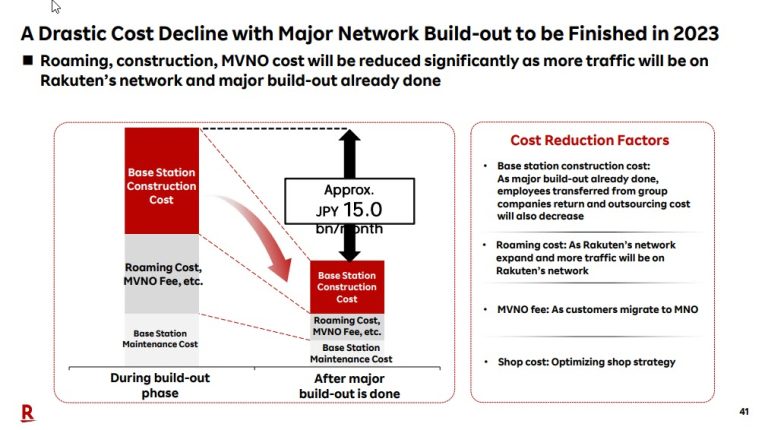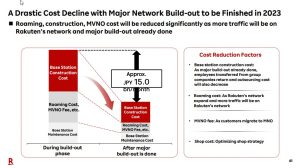 Courtesy: Rakuten
Through 2024 and 2025, capex is also expected to reduce significantly.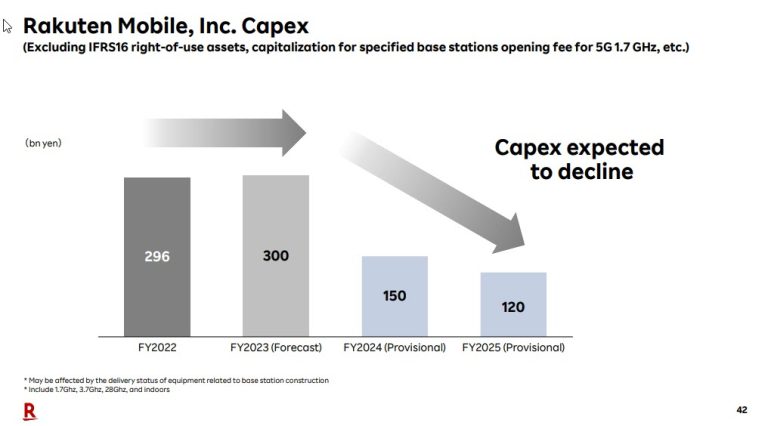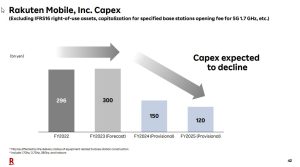 Courtesy: Rakuten
Rakuten estimates that is has delivered more-or-less nationwide population coverage at just 20% of the capex of existing mobile operators in Japan.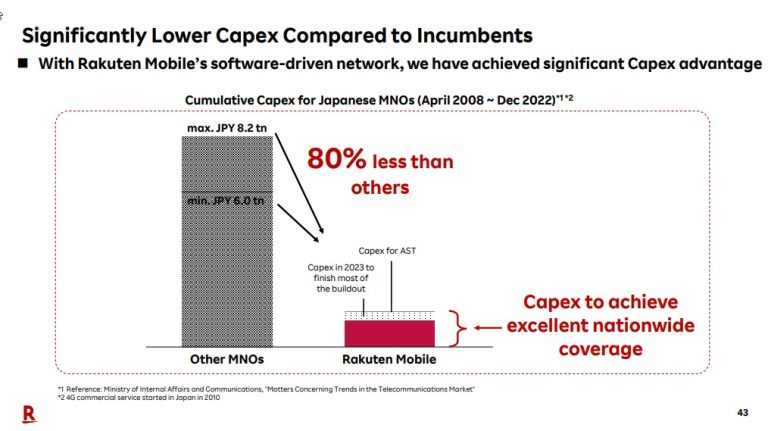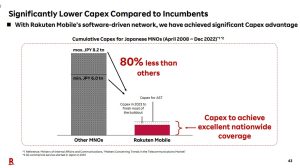 Courtesy: Rakuten
Already announced in November last year, Rakuten outlined its plans to use Platinum Band spectrum (800/900Mhz) to improve coverage. Rakuten's software-centric approach will avoid costs normally associated with additional band support. Re-use of existing physical infrastructure (masts, poles) together with software upgrades will make extra costs "negligible".
As we have highlighted before, Rakuten draws attention to its cost advantage for heavy data users. A network that scales allows Rakuten to positively encourage data-hungry subscribers onto its network. And better-connected subscribers are better connected to everything else.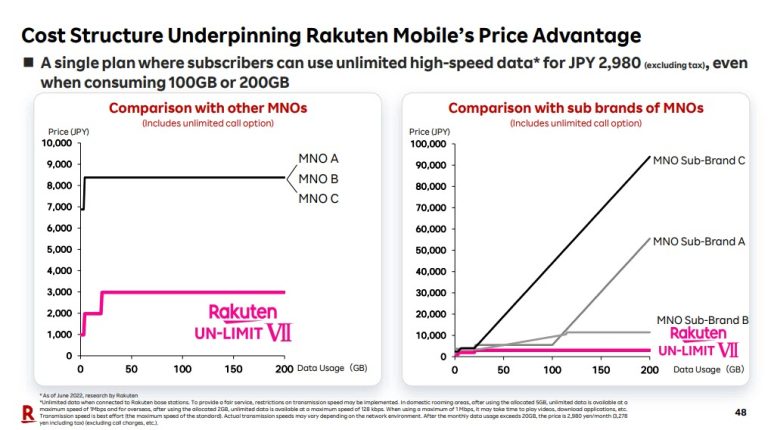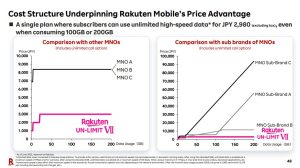 Courtesy: Rakuten
The average Rakuten users uses 18.4GB/month, more than twice the average for users of other networks.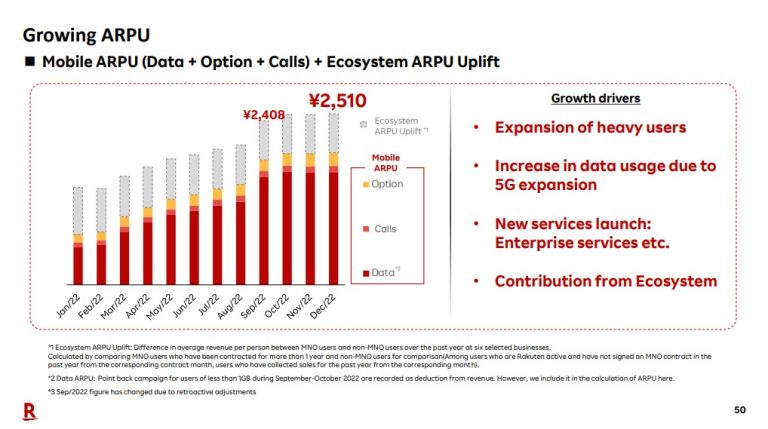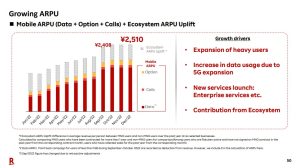 ARPU is also steadily increasing at around $19/month.
Profitability improvements are in part down to decreased roaming charges.
Enterprise is an increasingly important segment. The Rakuten Mobile Business Plan was launched in Jan 2023, with 600+ customers.
Rakuten Mobile also plans to launch high-speed internet services using its fiber backbone.
Symphony
Rakuten Symphony CEO Tareq Amin provided a readout on Symphony's first full year of operation. The headline: $476M in revenue during FY2022.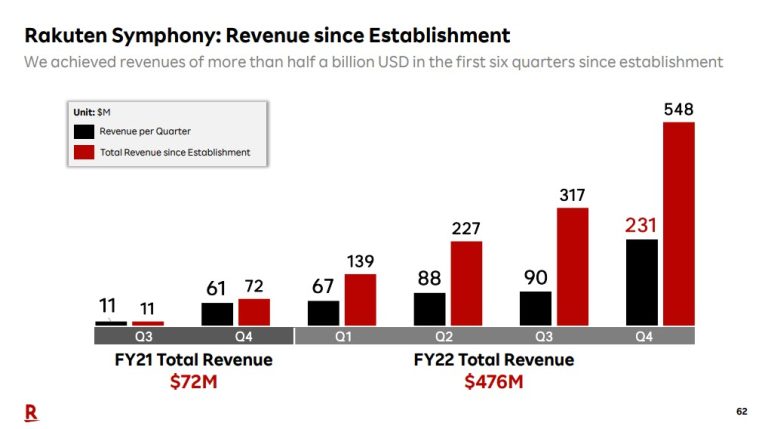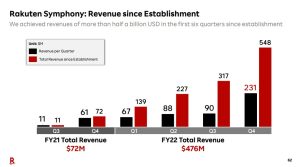 Symphony is a provider of three things, essentially: open RAN, cloud infrastructure, and the operational software platform and applications required to run a cloud-based network. It can justifiably claim a leadership position in all three areas. This is also a company with little or no legacy product to dilute R&D spend.
And Symphony sees all three areas growing: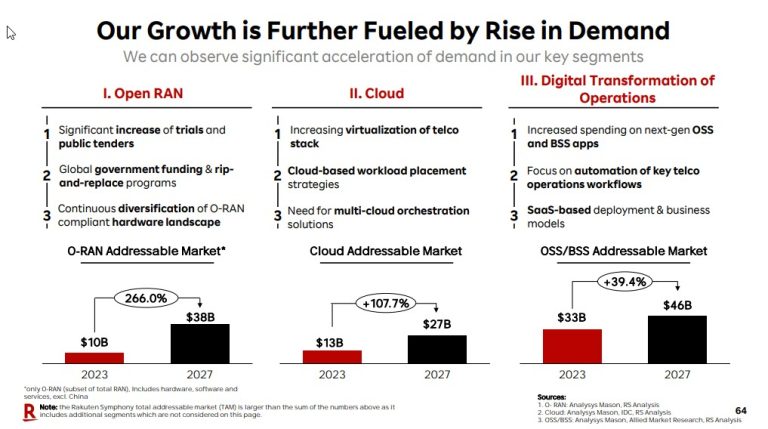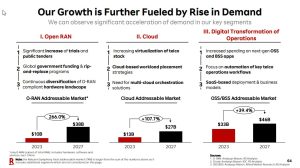 Courtesy: Rakuten
(For context, Mavenir recently reported sales for the year above $500m, with sales of open RAN running at around $100m. Parallel Wireless' revenues are estimated to be in the $20m range. Tareq Amin cited $200m in Open RAN sales – although over a six-quarter window).
Rakuten has over 300,000 (open RAN) cells on the air globally. Perhaps more importantly, it has released 600 new RAN features in the past 300 days.
As an internet company, high growth and scalability are what define the mission: Amin wants 40% growth for 2023, to make Rakuten Symphony a billion-dollar revenue company within two years, and do for (to?) telecom what AWS has done for (to?) enterprise IT.
Comment
Rakuten's unique characteristics continue to challenge conventional wisdom in telecom and, frankly, to call telecom's bluff. For all the talk of telcos becoming techcos, here is a techco that has actually become a telco. Don't be surprised if it's not quite what you expected. For all the talk about speed and agility, here is a company released a new feature on its RAN at an average of one every two days over the last year or so. Yes, innovation is needed to offer new services, but one option remains turning all-you-can-eat into a profitable, sustainable business model.
Rakuten is an internet company operating in a telecom world. This alone presents challenges, over and above the challenges faced by any young, ambitious company. Nonetheless, we continue to regard its achievements to date as significant in the industry and commend its continued strategic commitment to telecom.