On 9th August, Rakuten Group provided a readout on its Q2 results, with more detailed drilldowns on Rakuten Mobile and Rakuten Symphony, presented by joint CEO Tareq Amin.
It has been a year since the formation of Symphony, Rakuten's vehicle to take the innovations, approaches and technology behind the world's largest and most successful cloud-based open RAN network to the world. From this latest briefing, it is clear that both Rakuten Mobile and Rakuten Symphony are perhaps reaching, to borrow Churchill's famous phrase, "the end of the beginning". The phase of high capex is coming to a close. Free service plans are coming to an end – resulting in a greater proportion of data-hungry users (who get much better cost/GB on Rakuten Mobile than rivals). And Rakuten is still only in the early stages of exploring the synergies and affinities between mobile and other digital services offered across the Group.
Yet the mission and driving principles behind the Rakuten Mobile & Symphony story remain unchanged. And for all our industry's obsession with new technology, Amin returned repeatedly to the simplicity of Rakuten's vision for telecom: make it (significantly!) cheaper, make it better, make it automated.
That vision underpins both Rakuten Mobile and Rakuten Symphony, in their respective markets. The commonality makes sense of the dual CEO role, enabling a fast, recursive loop of experience and innovation between the two organizations, unmediated by the layers of account management and bureaucracy that often exist in a traditional supplier/vendor relationship. If transparency on the results achieved and lessons learned continues, then the industry as a whole should ultimately benefit. (For example, Amin plans to share the security architecture that Rakuten Mobile has created, aiming to put to rest theoretical concerns about the security of open RAN-based networks in light of actual operational experience.)
Rakuten Mobile Update
Rakuten's ambition is not to be the plucky #4 in a saturated mobile market: it aims to be #1. It knows what will be required to get there.
Amin's recipe for success in mobile is simple, and one that should resonate with every mobile operator:
disrupt on price – sustainably, by having a low cost base and scalable operations.
push hard and fast for ubiquitous coverage (outdoor, indoor and underground).
deliver a high-quality experience – both on the network, and with the day-to-day interactions between any mobile operator and subscribers from signup to issue resolution. (A walk-up customer to a Rakuten Mobile store can be up and running in 5 minutes, thanks to the use of eSIMs and online contracts.)
So far so good – a story that any mobile CEO could call their own. For a cloud era, however, he adds another: build loyalty through an ecosystem of adjacent digital services.
This Q2 update indicates it is a strategy that Rakuten is successfully delivering against. An operating model that reduces the cost per GB. 99% population coverage years ahead of plan (by end 2023), with almost 300k cells of various kinds deployed.
And all of this is before 5G really takes off. If (as everyone expects), 5G will raise demand for bandwidth significantly, then operators with flexible, scalable networks will have a widening cost advantage over those who don't. In response to a question, Amin highlighted that downstream 5G capex is not a major concern, since Rakuten already owns the necessary software, its 5G capex is largely limited to antennas and commodity servers.
Principles of a Resilient Network
Inspired no doubt by recent major outages at Rogers and KDDI, Amin took a few minutes to highlight the features that support resilience in Rakuten Mobile's network. The prominence of Observability is important, because it represents a significant departure from conventional telecom operations built on layers of probes, EMS, NMS and OSS. (Appledore has recently published a profile on Symphony's Observability Framework).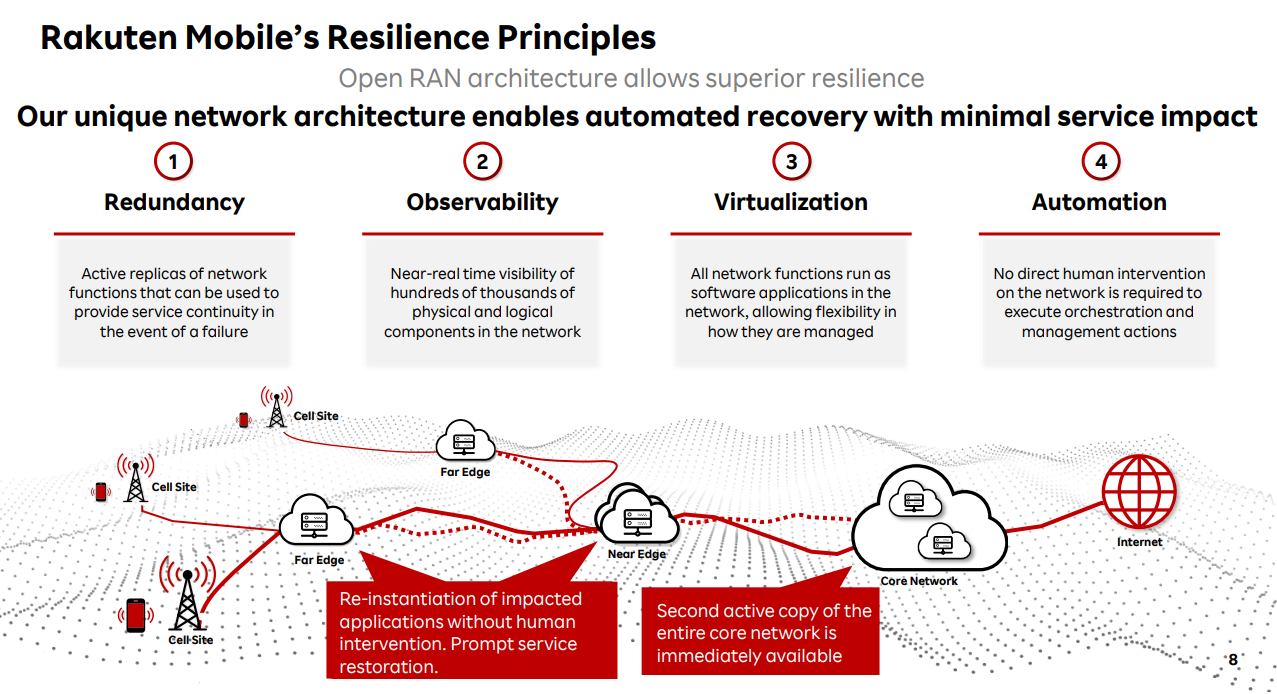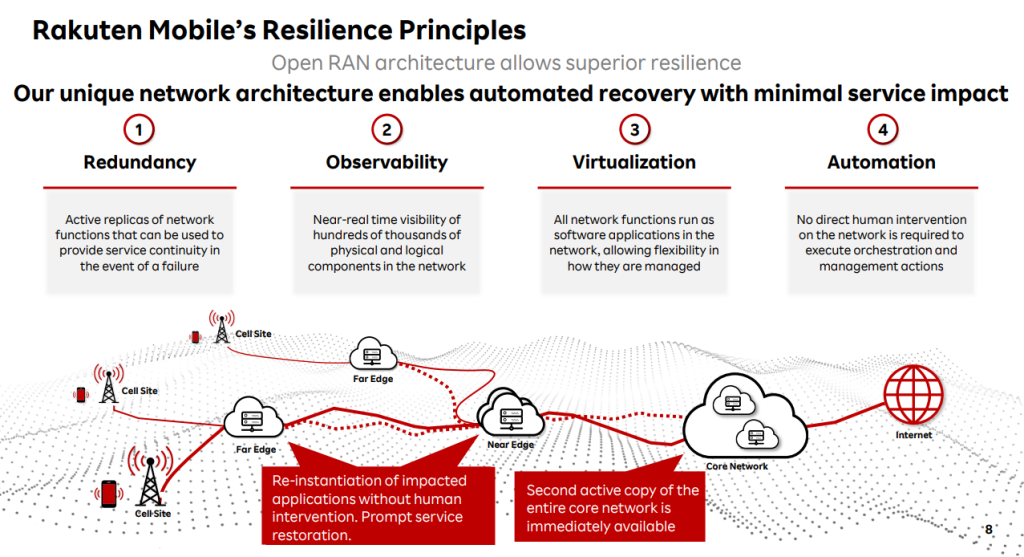 Image courtesy of Rakuten
Security
Amin also zeroed in on security, emphasizing the need for a modern approach that combines zero-trust, continuous vigilance on the network, proactive testing (Rakuten uses a "white hat" team to probe its defences), and automation. The last is of critical importance since human error is the root cause of the vast majority of security failures. Automation reduces the risk of a mistyped configuration, oversight or omission. Network resilience and security are both served by the drive towards total automation, and so Rakuten is right to see automation as a foundational principle, not simply a feature. (For more on Appledore's coverage of Automation and Security, see here.)
Symphony Update
Similarly, Symphony is not in the platform and transformation business as an interesting sideline. A year since its formation, it counts 13 current customers, and claims over 100 more in a pipeline of serious discussion, on a range of topics: not only Open RAN/vRAN, but end-to-end operations. And serious interest not only from greenfield, but Tier1 brownfield operators.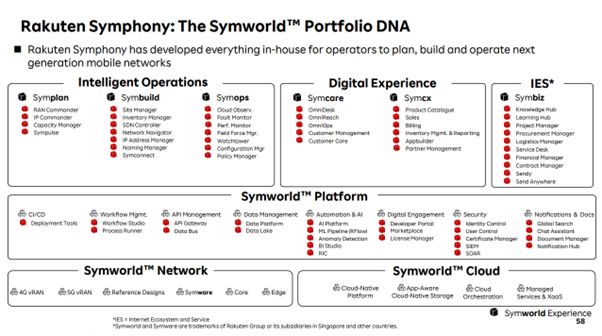 Image courtesy of Rakuten
And there was progress to report on Symphony's other anchor customer, 1&1 in Germany. Network tests are achieving high-throughout, low-latency connections (1Gbit/sec, 3msec) on its open RAN based network with edge cloud. This test, involving a Minecraft server deployed at the edge offers a good example of the sort of experiential differentiator that Amin believes should attract other operators to the Symphony community.
Appledore's Take
In an industry often distracted by (if not obsessed with) technology, Rakuten's update was a reminder that the real priority is achieving significant reduction in the cost of operations, without compromising on quality or security – in particular as operators look to 5G for new revenue potential.
While new basic principles and technical innovations are necessary, organizational change is perhaps the greater part of the challenge to operators, more so even than re-training network engineers in scripting and ML.
The speed and scale of Rakuten's progress should not be underestimated. The challenges it faces – speed and agility, innovation, security, differentiation, scale, resilience – are not unique to Japan, nor to greenfield operators. They are shared by all operators. As Rakuten moves into a new phase of its mobile mission, the wider benefits of its approach, beyond rapid buildout, will become even more apparent.
Rakuten continues to offer the industry a window into what that alternative mode of operations looks like, as well as the journey to get there. We look forward to this Symphony's imminent second movement.