Subex's 17th (!) annual user conference was a slick affair.
The conference kicked off with an impressive virtual world animation and conference experience, the online event taking place in what looked like a futuristic landing station for airships.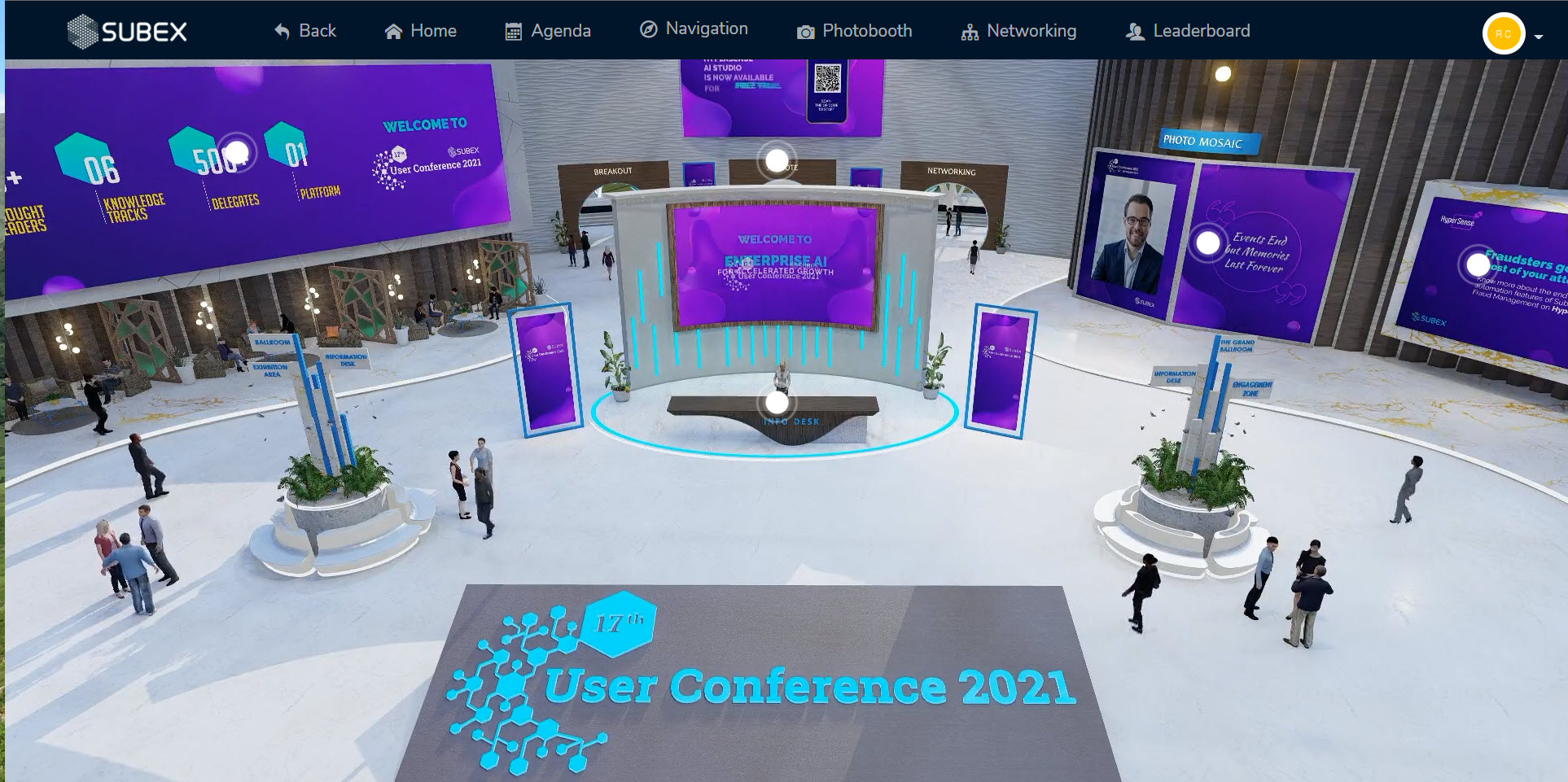 Image courtesy of Subex
AI and Data were the core themes through the event, spanning Subex's traditional revenue and customer experience business and its newer network analytics venture. 5G was also a strong focus.
Subex COO Shankar Roddam kicked off with a timeline of AI from the 1950s to the present day, emphasising that AI is important because it has changed the human ability to analyse information and take decisions. And yet only a tiny fraction of the data that exists is being processed – just 0.5%. Do we understand the true potential of AI?
One big obstacle to enterprises adopting AI are stories of failure (here's an unusual example!). In reality, we need to learn, and some failures are inevitable as we do so. Yet organisations leveraging AI have begun to improve customer experience.
Shankar wished attendees "small failures, but larger successes" in their AI adoption initiatives.
Rohit Maheswari talked AI with Telefonica's Richard Benjamin, where the guidance was largely to walk before attempting to run with AI, despite the lofty expectations of transformational change.
Rahul Joshi from Reliance Jio, in conversation with Alok Kumar Sinha, Subex Product Director for Network Analytics, talked about how network planning will become more difficult as more devices are connected, and new radio propagation techniques such as beamforming and massive MIMO are deployed. With, of course, AI as an essential enabler of a high-quality customer experience, and efficiencies in maintaining the network.
"5G is not like flicking a switch – it's a sustained change over years", Alok Kumar Sinha, Subex.
CEO and MD Vinod Kumar (CEO since 2018, but a Subexian since 1997) outlined Subex's plans for expansion into IoT and Security, Identity Management, and for taking its data and analytics expertise into non-telco verticals.
With its latest launch, Hypersense, Subex is making a play to become a platform company. Over time, Hypersense will be the underlying platform for all of Subex's products. Its fraud management is already available on Hypersense. (Appledore has recently published a profile of Hypersense for Capacity Management).
In common with other leading telecom software vendors, notably Amdocs, Subex has been transforming its tech to a cloud-native, and microservices-based architecture. As an industry direction, this was further reinforced by George Glass, former Chief Systems Architect for BT, and current CTO at the TMForum, who illustrated how conventional OSS and BSS boundaries are being replaced by open APIs: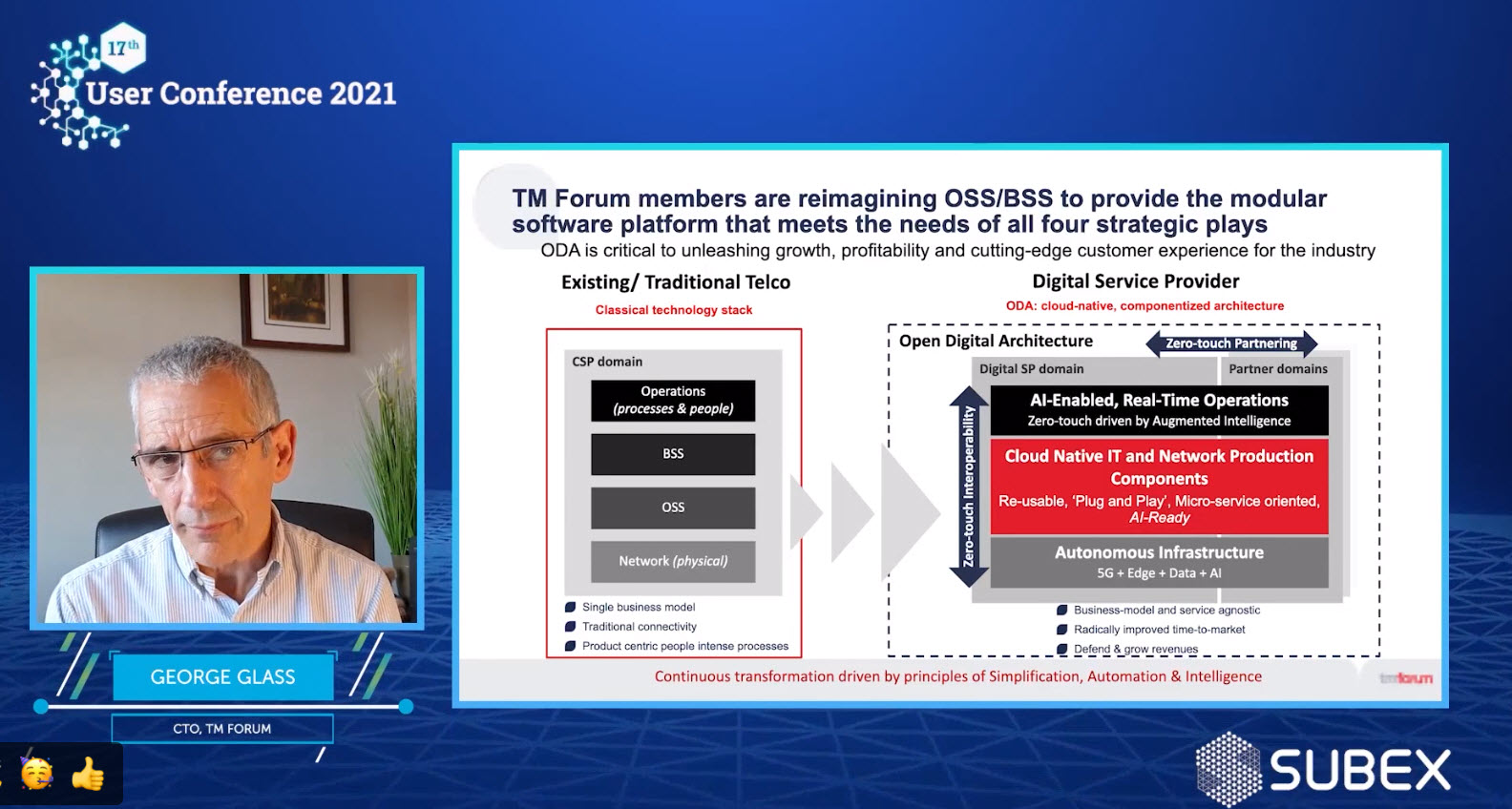 Image used by kind permission of TMForum.
(Appledore has previously published research on the impact of this architectural shift in the wider industry, setting out a new landscape for the telecom software market.)
CTO Suresh Chintada was bold enough to declare that since disruption is inevitable, better that you take on the job of disrupting your own products yourself, rather than be disrupted by others. He mentioned a range of in-house and collaborative projects created to foster disruptive thinking, even if that meant threatening existing Subex products. Refreshingly brave, especially for such an established company.
Subex is not alone in seeking to place data and AI at the centre of telecom, but it seems pragmatic and realistic about where we are on that journey, and the length of the road ahead.
Further Reading: