On the heels of Microsoft's Azure for Telecom, last week's announcement of "IBM Cloud for Telecom" confirms a major trend: the inexorable shift towards public cloud infrastructure hosting critical telecom functions.
Last week's IBM Cloud for Telecom announcement is the confluence of multiple threads of IBM's corporate, product and market strategies. It represents further evidence of telecom's fundamental transition to new software-centric, cloud-based operating model. And in particular, the increasing readiness of public cloud platforms for hosting telecom's most particular applications.
The last bastion against telecom's move to software has been the concern that software applications and cloud platforms can't deliver five-nines reliability that telco believes are its special responsibility (and burden). This concern has been steadily eroded in the last couple of years. As Appledore covered in early 2020, VMWare has had an early edge in giving conservative telco buyers confidence in meeting the demanding SLAs for telco functions.
Now, under IBM Cloud for Telecom, IBM has pulled together an impressive ecosystem, aiming to convince those same buyers that an IBM cloud is the place to entrust the beating heart of telecom operations.
The viability of public cloud for telecom is a trend we've been predicting since late 2016. Now two industry giants are making a major push to woo telecom customers.
Key Insights:
Public Cloud players adapting their environments to telecom's needs
Azure and IBM the first to make explicit, branded offerings
Both IBM and Microsoft include VNF vendors – demonstrating intent as well as collecting real-world experience on how to manage to low latency, high performance and high availability
What is the IBM Cloud for Telecom?
Dissecting IBM's various release documents we conclude that IBM Cloud for Telecom:
Is a hybrid cloud, aspiring to move workloads as needed across private, edge and core cloud facilities
Is built on IBM Cloud Satellite and leveraging Red Hat OpenShift – and therefore built to a) work across a range of datacenter locations and sizes and b) geared to cloud-native containerized applications.
Integrates IBM Edge Manager, which provides AI & analytics to actively manage myriad edge workloads
Integrates IBM Telco Network Cloud Manager, which provides intent-based (that's a good thing) automation of services, chains and similar.
Is supported by a broad range of launch partners – notable among them many VNF vendors (more on that below)
In 2016 Appledore began digging into Azure with generous access provided by Microsoft. Our goal was to identify the similarities and differences between that cloud implementation and the ETSI NFV direction that telco was plowing down.
Details aside, we found a very strong functional mapping between the two and documented where Azure appeared to be significantly ahead in terms of true, intent based automation which we believe is critical to efficiencies of many types.
We indicated that this was likely a good yardstick for the relative maturity of public cloud giants compared to telcos and advised the industry to take Azure – and likely its competitors – seriously as competitors and platform suppliers. You can read these long-form research docs (free) here.
So what's the telco part?
While details remain to be revealed and proven, there are many clues.
First, the very "hybrid" nature is clearly intended to have synergy with modern public WAN technologies such as SDWAN, SDN, 5G, uCPE and related.
Second, IBM speaks (we have not dug in yet) about data privacy and the ability to meet industry regulations.
Third, IBM launched with a large set of application partners, and in the extensive roster shown below, three of the five columns are fundamentally telco network workloads – routers, 5G cores, and the like – sometimes from major telecom NEPs such as NOKIA, Samsung, Cisco, Juniper, Spirent – and the Microsoft-owned Affirmed Networks and MetaSwitch.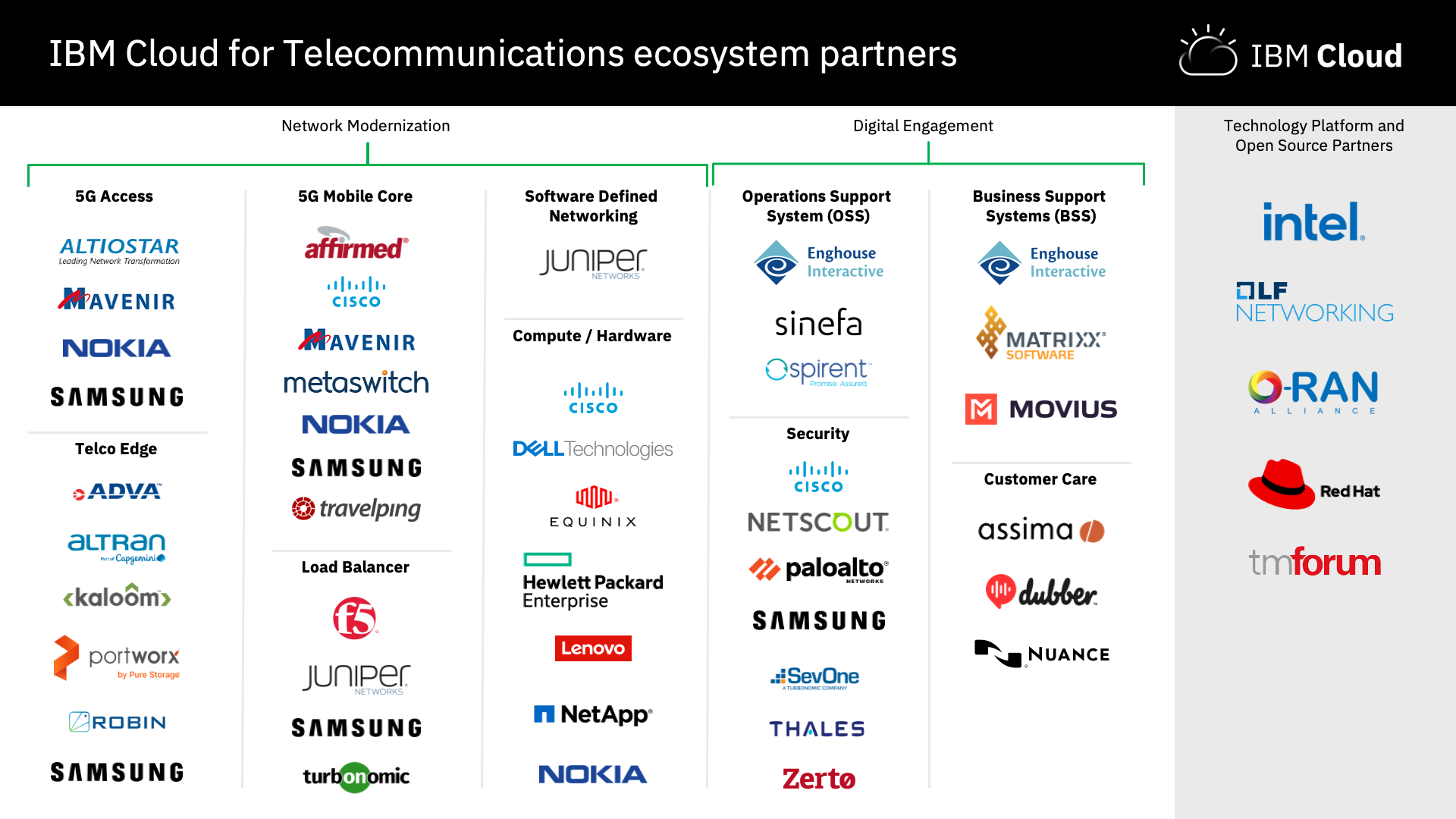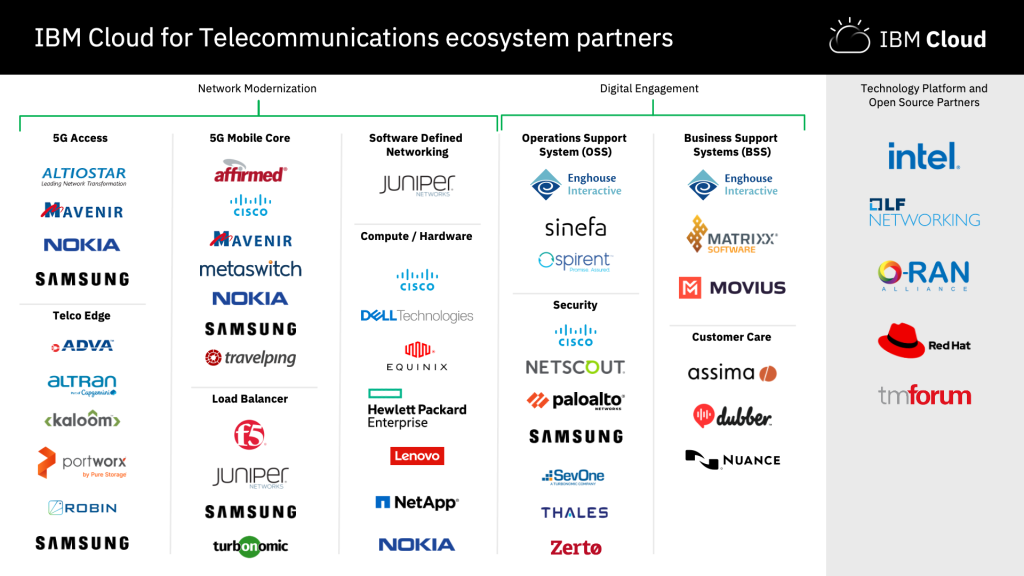 This suggests that IBM is working with those partners to deliver the deterministic performance and high availability that is demanded of mission-critical, shared infrastructure workloads.  We have commented that this need not use old, gold-plated telco methods but that a dynamically self-managed (sorry about the buzzwords, but they mean something!) cloud achieves such results by placing "unreliable workloads on intelligent and reliable infrastructure" – a very different but potentially successful approach.
The future is taking shape
The 600-odd telcos of the world cannot, and should not, each try to build out their own cloud infrastructure. They cannot achieve critical mass, and it only creates service-silos that fail to serve end users – consumer or enterprise.
For network workloads we are seeing the same economics prevailing; just as operators share towers, radio sites, and other civil engineering, we expect to see more sharing of edge and major public cloud facilities – not only for customer (enterprise) workloads but also for widely distributed network workloads.  These are what are called "competitive necessities" not "competitive differentiators". The only way to differentiate oneself by building custom infrastructure is by having the highest cost – not clearly a desirable differentiation.
We applaud IBM, as we did Microsoft for taking this step. We support the concept of a gradual "hybrid" cloud that uses central, regional, edge and private/uCPE cloud locations and optimizes the performance-cost-capacity trade-offs dynamically.  We especially applaud approaches that deliver broad availability and shared lower costs more quickly – floating all boats.
Follow Appledore as we dig in deeper to the reality of this cloud's – and other's – performance for demanding network workloads.
Images courtesy of nikola-ancevski and IBM