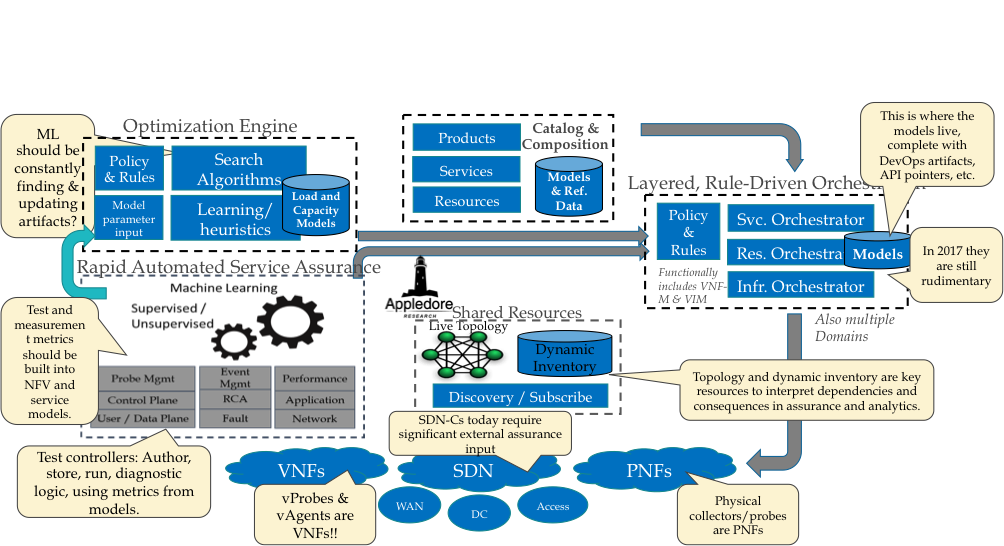 This major report builds on the foundation laid by our "Orchestration for Automation: 2018 Supplier Assessment", and expands on the specific orchestration related methods that represent, in our opinion, Best Practices and worthy goals for any service provider (SP) or supplier to target.  These Best Practices focus on how to best achieve high degrees of closed-loop automation elegantly and simply.
The focus of this report is on modeling and on-boarding. It emphasizes the need for model native orchestration, intent based models, and for models and on-boarding processes that foster highly efficient and replicable DevOps.
Our  thesis is that traditional methods of orchestration based on pre-defined workflows have very significant disadvantages in a cloud environment and, if continued, will result in more labor, higher costs, less agility and more complexity.  Rather, we look at how to harness what has been learned in cloud native deployments and from control theory to simplify operations.  We need to think differently about everything from what is possible, to what simplicity looks like.
Orchestration is an ill-defined, and in some ways, misunderstood process.  Appledore Research believe that orchestration must at once become a common process for fulfillment, assurance and capacity management, and at the same time become distributed across layers and autonomous technology, regional or administrative domains.
Probably the foremost goal of new orchestration technology should be automation along several fronts – automated instantiation, scaling, healing and capacity optimization of both NFs and services.  Automation is essential to a range new business models, agility, cost reduction and improved users' quality of experience.
This framework report digs into the "why?" and the "what?" of best practices that enable automation, simplify maintenance, support lean DevOps and ultimately move the industry's business model forward dramatically, rather than merely implement new technology with operational limitations.  It specifically provides a guide to orchestration that is model-driven, policy-driven, and to the needs and components of on-boarding and modeling.
This report should be a "must read" not just for technologists, but also for operations managers and enterprise (CSP) managers that want to de-mystify the benefits of otherwise obscure technology, and have  a guide to help them implement a successful, agile, competitive future.
https://appledoreresearch.com/report/best-practices-in-orchestration-policy-models-and-on-boarding-appledore-market-outlook-0418/
Image courtesy of freeimages.com/tijmen van dobbenburgh