The enterprise services market is undergoing dramatic realignment, with the net result that Service Providers face a significantly larger opportunity – if they execute effectively and aggressively.
Enterprise Complexity = Telecom's Opportunity
A new reality is emerging in the enterprise market.  For decades, CSPs have provided WANs between enterprises' major locations.  Beyond that most enterprises operated their own applications in datacenters ("locked their data in the basement"), provided limited remote access for offsite workers including travelers, configured and ran their own firewalls, and relied on relatively static VPNs and MPLS for security of traffic within that perimeter.
Foundational changes are demanding new WAN networking realities and creating opportunity for CSPs.  The rise of public cloud; the rise of work-at-home, the rise of digital services and business, the importance of digital supply chain collaboration. Additionally, both the sophistication of and the consequences of security threats are vastly greater.
The net result is that enterprises are demanding end-to-end solutions, and telecom CSPs are best positioned to deliver those.  The component parts are, in effect, the segments of our latest market forecast report, driven initially by SDWAN, and quickly followed by orchestration and observability across WAN-LAN-Cloud boundaries, integration with firewalls and other security measures, and automated methods that both drive down errors (vulnerabilities) and address the labor cost and skills gaps that worsen every year.
We believe that success in security demands that CSPs provide it as an automated, managed service bundled with underlay and overlay transport.  We also believe that an effective, automated security offer drives additional transport segments – worth even more than the security itself.  This is a must-win market, and due to complexity, manual methods are not sufficient.
Forecast for High Growth
Appledore forecasts that the Automated, Managed Security market (CSP focus) will grow from USD 2.5 Billion in 2021 to USD 17.6 Billion in 2027 at a 49% CAGR.  The bundled professional services opportunity (which depends in part on success in automated network-connected security) pushes the total CSP security opportunity in 2027 to > 27.7B USD.
Managed, Automated Security Global Forecast 2022 – 2027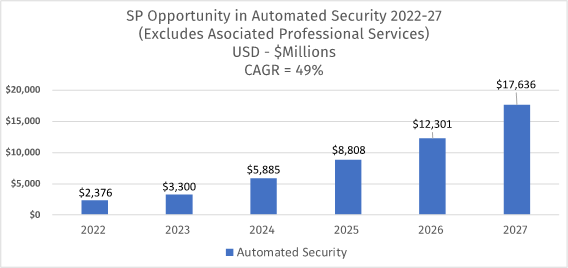 Source: Appledore Research
Automated Security market growth is being driven by several challenges and opportunities. Complex technology is rendering manual methods uneconomic, and too complex and slow to be practical. The trends in remote working, public cloud, and dynamic supply chains create several underlying challenges/needs:
A need for enterprises to rethink security ops in the face of new WAN realities.
Additional network segments, which often cross ownership barriers.
Rising risk/threat of security attacks.
Digitization of business and of valuable intellectual property.
We believe it is less a matter of "if" this shift occurs, but one of "who delivers the automated security services and benefits".  Given that the total cost of cybercrime is estimated to exceed 20,000B USD (yes, thousand Billion) by 2027, this cost is negligible so long as a case can be made that that automated, end-to-end approaches delivered increase efficacy and therefore lower risk.
Market Segments
Within Automated Security there are six subsegments, growing and maturing at different rates, but often inter-dependent.  The largest segment to date has been SDWAN, which provides the foundational building blocks for many vertical security offers (including "SASE"), as well as a reality of end-to-end encryption across ownership domains.
Our forecast looks at managed services for automated security across all six segments:
Managed SDWAN
Security Orchestration
Next Gen Firewalls as-a-Service
Native Cloud Security as-a-Service
DDoS Protection & Mitigation as-a-Service
Automated XDR as-a-Service
Of these, DDoS Protection is forecast to be the highest growing segment with a CAGR of 84% between 2022-2027.  Today's largest segment, Managed SDWAN, will drop from a third to a quarter of the overall market over the same period – though against overall year-on-year growth of 49%.
All of these services can be mapped onto a common taxonomy.  For example, SDWAN secures data flows and applications via access control.  Smart firewalls do the same.  DDoS protects from attack and mitigates attacks. But beyond that, all are orchestrated from a common set of identities, application attributes and service attributes – consistently – by end-to-end service orchestration.  Automated XDR detects "attacks and threats" and reacts to them – again in an automated fashion.  Only in this way can the ever-increasing complexity of security configuration across hundreds of network segments and applications be maintained consistently, without errors.
Appledore Security Taxonomy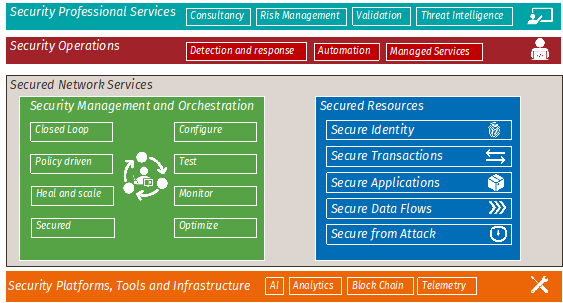 Source: Appledore Research
CSPs *should* be the biggest beneficiaries
Our new forecast predicts a significant increase in security related market share by CSPs, rising from 15% to 48% of the covered segments over the forecast period. This is tremendous market share growth, but is consistent with the nature of the challenge – enterprises will become increasingly driven to have end-to-end security; much of this is directly related to networking provided by CSPs; it is far easier to automate service that you (in this case a CSP) provide than to control 3rd party services; and significant parts of the market are already shifting toward a managed services model (e.g.: SDWAN) with CSPs in the leadership position.  Yet the converse applies: if CSPs do a poor job or designing, marketing and executing services – this market will vanish to others that do better.  We lay out the fundamentals in our existing security market outlook reports.
We emphasize that a willingness to take end-to-end responsibility for tomorrow's complex, cross-ownership enterprise WAN/LAN/cloud environments drives this opportunity, while a strong security offer strengthens CSPs' hands in winning those expanded networks.  Quite simply, one needs a foundation before innovation can occur on that foundation, and we are now entering that phase of market growth.
For the full 30+page report, including detailed segment analysis, commentary and forecasts, click here.