Buckle up! It's another Rakuten Symphony & Mobile media & analyst update.
The latest briefing provided the now customary mixture of remarkable progress, boundless optimism and alternate perspective on what exactly transformation really means for the telecom industry.
And that last point is important, because unless you're prepared to entertain the idea of fundamental change in the industry, you'll likely miss the real significance of what Tareq Amin (CEO for both Rakuten Symphony and Rakuten Mobile) is saying.
Quarterly briefing calls are the place for metrics, and in Rakuten Mobile mode Tareq was happy to share highlights:
44,000 4G and 5G macro cells now deployed.
97% of population coverage, with 99% on the near horizon.
270,000 total cells across indoor and outdoor 4G and 5G locations.
An open RAN comprising kit from seven vendors (Nokia, KMW, Airspan, Altiostar, Sercomm, NEC, Qualcomm) across urban, suburban and rural locations.
A network rated independently as one of the best in the world.
3,500 staff now under Symphony (with 90% in R&D).
Subscriber numbers en route to six million, rapidly converting from Rakuten's MVNO to its own network.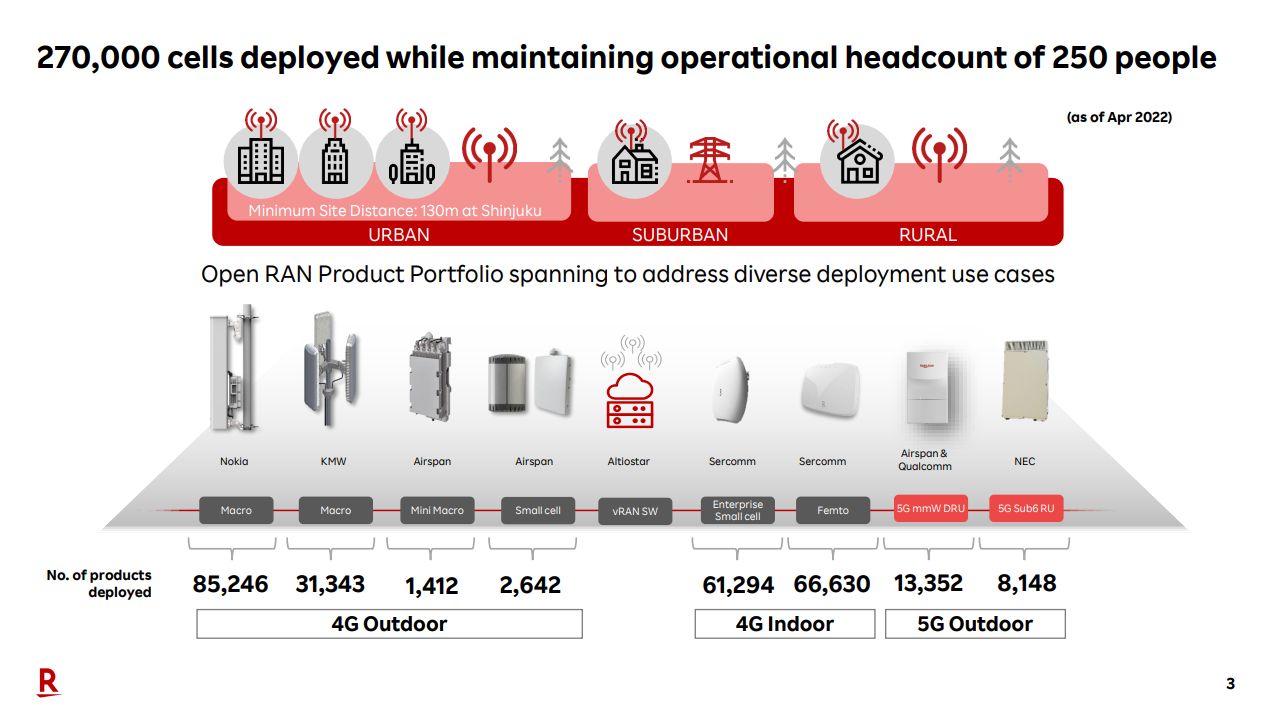 Image courtesy of Rakuten Symphony
Impressive numbers already. But here's where that alternate perspective starts to kick in – and why Rakuten's view of transformation calls for standing conventional wisdom on its head.
For one thing, the growth in the network hasn't resulted in a growth in the team supporting the network. A flat headcount of 250 provides Level1-3 support on this state-of-the-art nationwide network. That's not conventional telecom.
For another, Rakuten Mobile isn't bending over backwards to bamboozle customers with complicated rate plans. There's one. That's not conventional telecom either. A plethora of billing plans have been what passes for innovation in telecom for at least 20 years.
And for a third, the charts on rapid growth in data are presented not as a challenge, but positively welcomed as opportunity. That's definitely not conventional telecom, where exploding traffic is used to trigger alarm bells.
The conventional wisdom is that the case for 5G just isn't supported by higher consumer ARPU. For the last couple of years, attention has turned to enterprise as the place where 5G's new capabilities will unlock new revenue. (It was a major theme at MWC22).
But Rakuten sees the world differently. Unlimited data plans and exploding data are only a problem if (a) moving bits around is all you have to monetize and (b) you don't have a way to drive down the incremental unit cost. The answer to (b) we already know: it's called cloud, and the vision for how telcos can use cloud comprehensively is what Rakuten is offering to the market with its Symworld portfolio. The answer to (a) is Rakuten's other prime directive: synergies.
Rakuten showed correlations between Rakuten Mobile subscribers and spend on other Rakuten Group digital services and content. Proving what we all know instinctively to be true: it's not about adding more features to mobile service – it's about bringing mobility into the interactions that consumers want to have. In how they are entertained, make plans, buy things. If the mobility – the ubiquity – that enables all of these is high quality and reliable, people will likely do more of them.
Symworld
Rakuten reiterated their commitment to providing an open platform for the industry. Symworld offers an a la carte menu of Symphony and third-party components for building and operating a network, on a cloud-agnostic basis. (Though only on the Symworld platform will customers get a common data lake, Automation and AI, RAN Intelligent Controller (RIC) and other base capabilities that can be leveraged by multiple high-level applications.)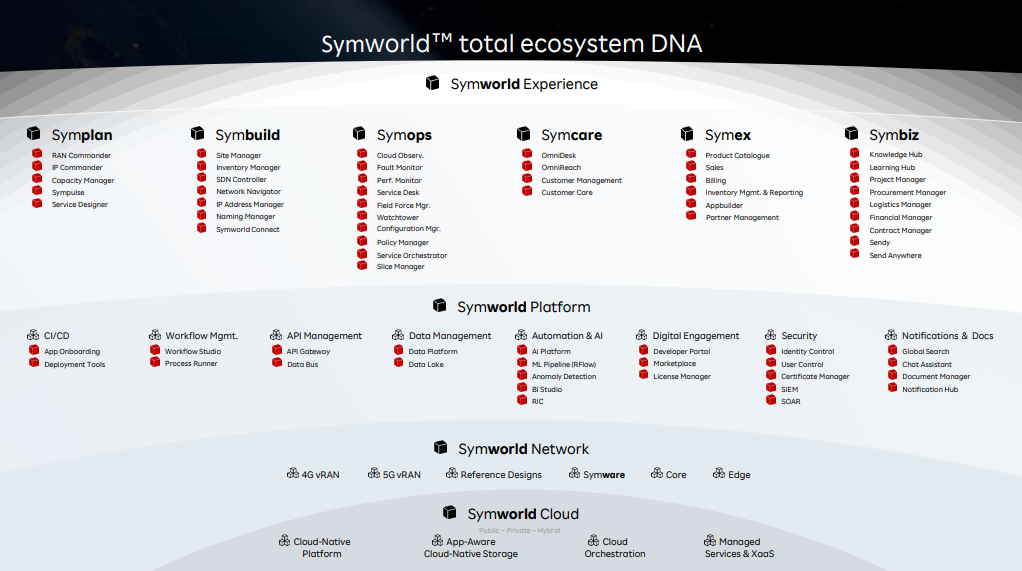 Image courtesy of Rakuten Symphony
Symworld will be a platform open to developers – a telco-specific platform for truly cloud-native applications. More is promised on this in future briefings.
In response to questions (also unconventionally the largest portion of the briefing), Amin shared that Rakuten plans to enter the enterprise private 5G market in Japan later in 2022, with partner-based solutions (for example, a reseller deal with UK-based IoT company Ubisense was announced in October 2021).
Also, that Rakuten plans trials later this year with AST, a low-earth orbit (LEO) satellite company that it invested in (alongside Vodafone, Samsung and American Tower) back in 2020.
That alternate perspective was on show again in response to a question from Appledore's own Francis Haysom, regarding the Symphony value prop for other operators who lack the digital services ecosystem of the wider Rakuten. The answer is that Rakuten strategy is exactly to make its wider digital services available to telcos (Amin referenced its October 2021 acquisition of Korea's Estimob as one example). As the cost of connectivity tends towards zero, then CSPs also need to plan for how to establish a sustainable ecosystem of customer experiences – not just connectivity experiences. In the end, that is really what Symphony is doing.
Symphony's mission truly is to transform the industry and invert conventional wisdom. Once you understand that, the numbers take on a whole new significance.
Picture credit: Photo by Sora Sagano on Unsplash