If Japan saw the premiere, then Europe is about to see a whole tour.
The latest briefing call with Rakuten Symphony contained a characteristic mix of significant achievements, transparency, vision, just a dash of contrariness – and a few teasers ahead of MWC.
On achievements, Rakuten Symphony's own 4G, open RAN network now reaches 96% of Japan's population. Important enough milestone, but in the context of achieving that in just 2 years (and four years ahead of the original schedule) it remains all the more impressive.
Rakuten Mobile now has 200,000 open RAN cells are on air, a mix of 4G and 5G, indoor and outdoor;  dense urban, suburban and rural. This includes 5G Massive MIMO, based on Open RAN.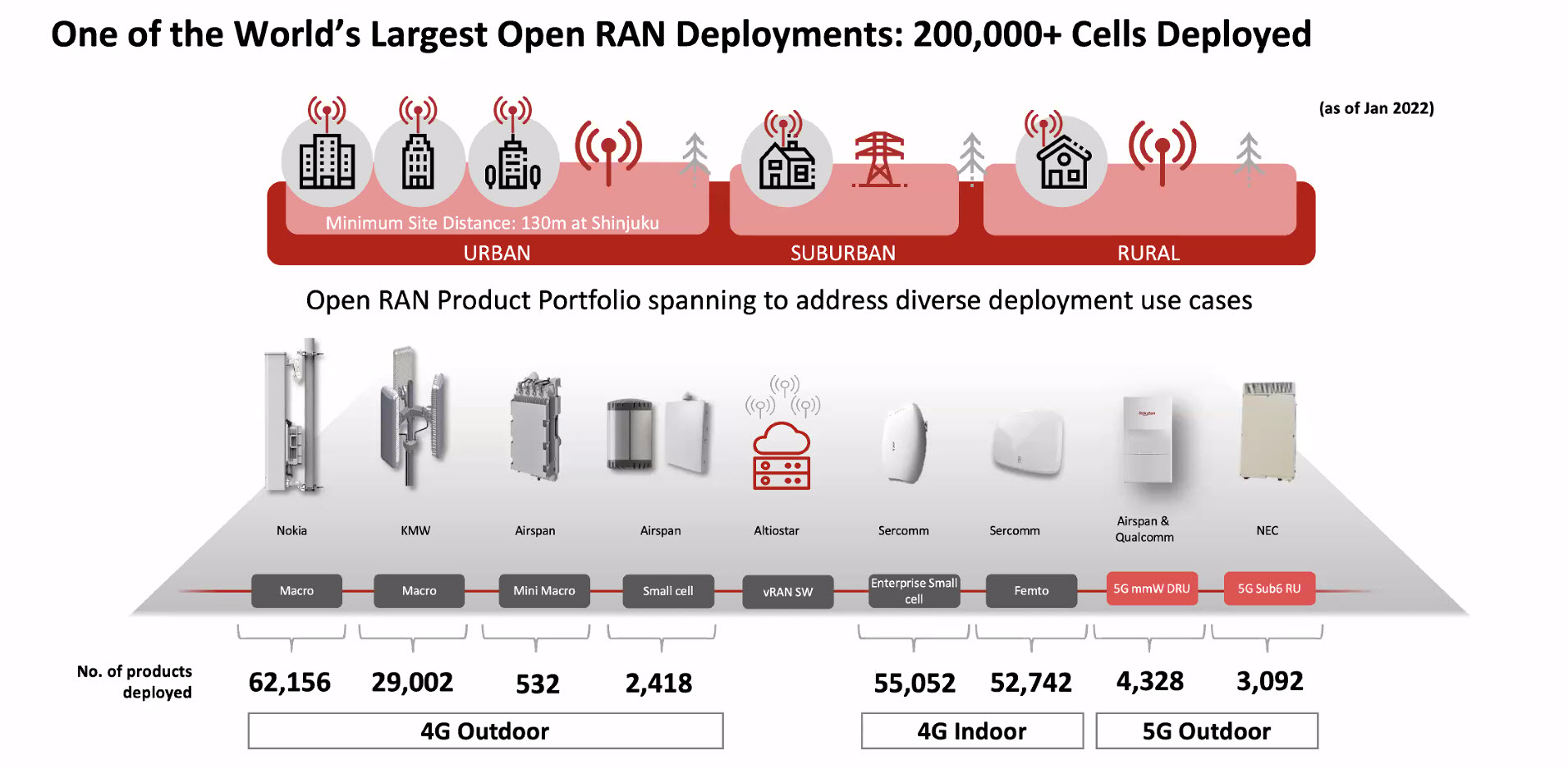 Courtesy of Rakuten Symphony
Although it's in the small print, Amin draws attention to the list of vendors supporting this deployment: Nokia, KMW, Airspan Altiostar, Sercomm, Qualcomm and NEC. That variety is as much a validation of open RAN as anything else in today's call.
Subscriber numbers are up, now approaching 5.4 million, with the proportion on the legacy Rakuten Mobile MVNO network down to a few hundred thousand. And Rakuten wants those data-hungry subscribers, attracted by its Unlimited plans. Through its investment in automation, simplification and use of hyperscale platforms, it is resetting the operating cost base benchmarks not just for Japan, but for telecom globally. It's all part of disrupting the market.
And it's a market is overdue for disruption. "It's about time", writes Amin in a companion blogpost.
Europe is now a clear focus for Rakuten Symphony. In addition to its banner customers at 1&1 Drillisch in Germany, the head of its Digital Experience business unit is based in France. Conversations with Telefonica, also one of the largest and most active open RAN champions across multiple countries, sound more than promising. A tie-up between Telefonica and Rakuten Symphony would be a significant development in the market. Telefonica is one of the operators who has made a public commitment regarding diverting spend from conventional RAN to open RAN – not simply running PoCs and pilots.
Worldwide, Symphony is now having many more conversations with brownfield operators than greenfield.
Rakuten is not shy about admitting the technical, commercial and cultural challenges it has faced in Rakuten Mobile. But it has four years of learnings and development, and operational experience at scale – a four-year head start on rivals which Tareq Amin sees as Symphony's secret sauce.
But it does not count the likes of Nokia and Ericsson as rivals. Quite the reverse: Amin is key to emphasis the opportunities for these companies that working with Rakuten Symphony could offer. Nokia is already a supplier for Rakuten Mobile's 4G radio units. Symphony is not a services company, is not a telecom hardware company. It's a telecom platform company.
Not Just Open RAN
Rakuten's vision has always been about more than open RAN. It is about hyperscale telecom, a significantly reduced cost base (capex and opex); automation, innovation, and speed. Amin shared how Symphony stacks up the addressable market across its five key business units, with Altiostar tucked in under Network Functions.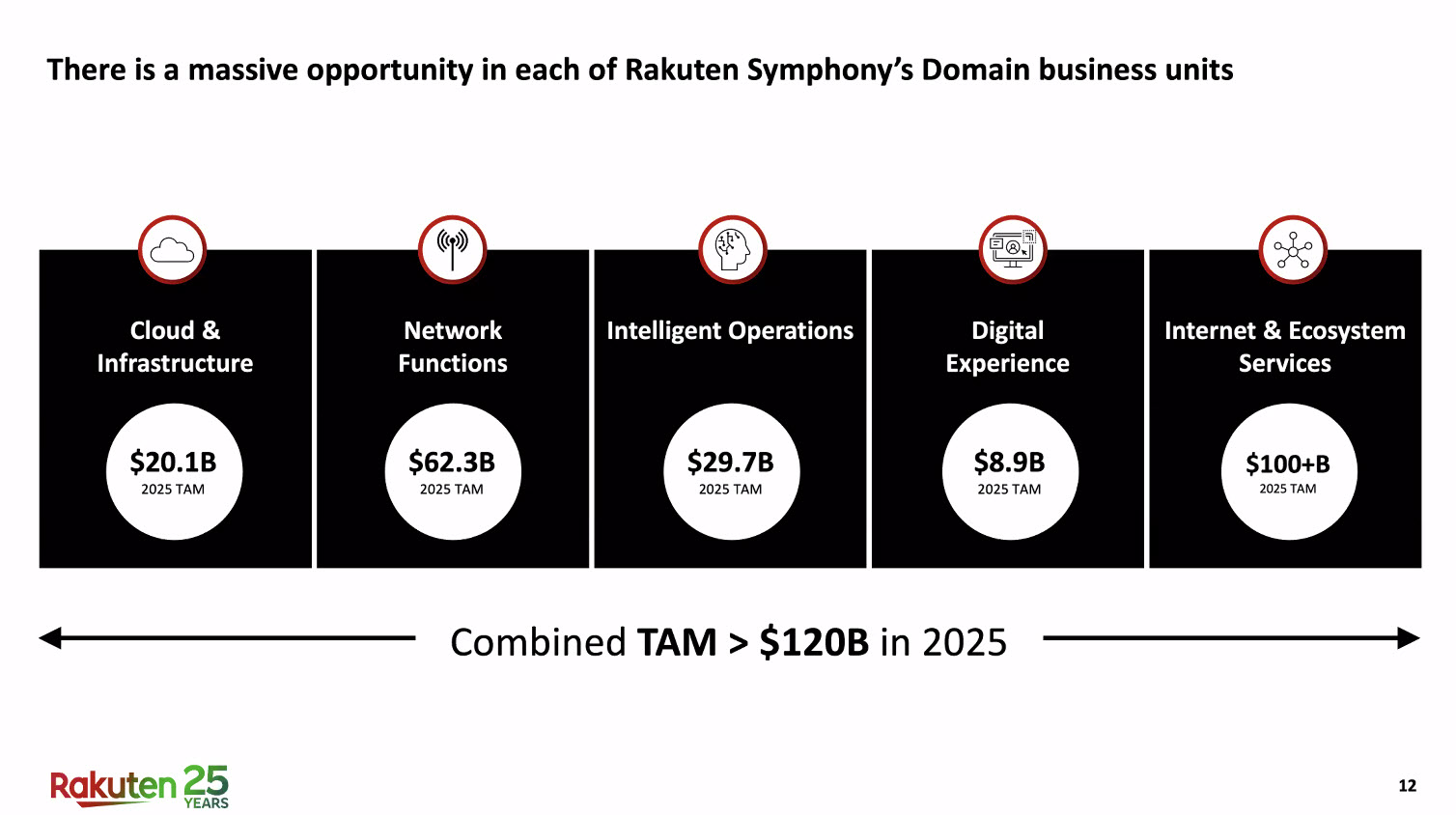 Courtesy of Rakuten Symphony
Symware & Symworld
Originally trailed back in October 2021, Symware is the result of some of that four-year learning process: an appliance that enables Radio-as-a-Service as a commercial model. Built using commodity hardware, Symware is optimized to meet the demands of telecom workloads. It contains "no magic", but of course that is precisely the point. It is the operational expertise and automation capabilities that Symphony has been perfecting that make such a device possible.
Symworld represents Symphony's wider proposition and ambition: a vision for a complete, coherent set of software capabilities required to plan, build and operate advanced, cloud-native networks at scale. Unlike the siloed, verticalized, procurement and deployment (and endless systems integration) that has characterized telecom for the past 30 years, Symworld – put simply – allows 200 people to run a network that conventionally would take thousands.
Rakuten is keen for Symworld to be a channel for third parties to sell their offerings through. In the near term however, it is focused on the technologies and applications that it has direct control over.
Overture Complete
Rakuten Symphony continues to push the boundaries for telecom, sometimes into uncomfortable places. CEOs and CFOs take note: the basic business model for telecom is broken. CTOs: vendor diversification should be seen as an opportunity, not a threat. CMOs: when did you last really innovate?
It is a courageous undertaking. But against two decades years of "transformation" (only largely to conclude that it is telecom's culture that is a problem), Symphony's progress in last six months is exciting to see.
Symphony is right: it truly is about time.
Picture Credit: Photo by Manuel Nägeli on Unsplash