"What do they know of SDWAN, who only SDWAN know?"*
The total market for SDWAN services continues to growly strongly. We forecast a total market in 2027 of at least $22B in 2027, and possibly as much as $41B. The rate of growth is slightly slower than we forecast 18 months ago, but we see this as a natural indicator of a market that is starting to mature.
What is more interesting however, are the ways in which the market is evolving. Individual CSPs in particular are seeing SDWAN in quite distinct ways, and this is shaping their strategies for who and how to engage on the vendor side.
On one hand, we see IT suppliers selling the benefits of their SDWAN direct to enterprise customers, encouraging them to demand it from their CSPs. Duly influenced by customer pressure, telcos end up with multiple SDWAN vendors, making sales, but complicating the prospect of better integration and automation. On the other hand, we see some more enlightened telcos taking SDWAN as just the starting point for a richer, more integrated set of offerings for enterprise customers. For both, security has proven to be the killer app that is driving customer spend.
As Appledore, we focus on the "S" of SDWAN – software. We believe that software offers the best opportunity to create new value, differentiators and experiences. We estimate that in 2020, some $1.2B of the total market (about 25% of it) was spend on SDWAN software.
Compared to our 2018 analysis, the share of leading SDWAN software vendors has shifted meaningfully. Some familiar names have been subsumed into larger vendors (for example, Silver Peak and Aruba into HPE), but new entrants have taken their place. Around 80% of the market is shared across eight vendors, with VMware having the largest overall share at 19%, a little ahead of Cisco (12%) and HPE (Silver Peak) on 10%.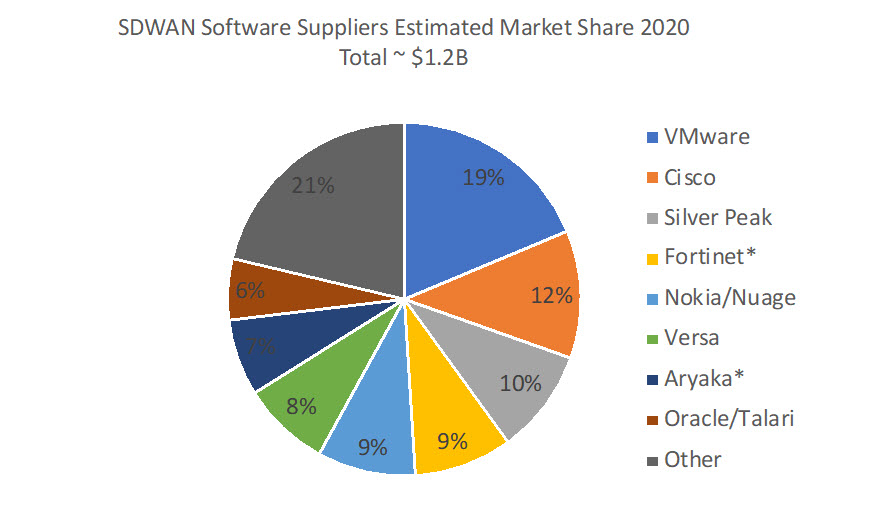 But this picture disguises the significantly different types of offerings across vendors. In our view, from the outset, SDWAN has been poorly defined and consequently misunderstood, leading to widespread confusion across the market. The current infatuation with SASE has added to, rather than clarified, the situation. This confusion is best illustrated by the range of ways in which vendors and CSPs have negotiated trade-offs between those forms of SDWAN that are easy to sell today, and those that offer a route to higher value over the longer term.
In our new report, we compare these contrasting models for SDWAN, and map out what else telcos need to be doing to realize the potential not only of SDWAN, but of a whole class of related enterprise services.
We believe that SDWAN, as well as being an anchor for a new enterprise edge and set of dynamic enterprise offerings, is one of a very few truly autonomic apps that will help CSPs trust and accept self-managing network domains – leading to proper domain driven, loosely coupled management architectures and hands-off automation.
Vendors referenced include Aryaka, Ciena Blue Planet, Cisco (Viptela, Thousand Eyes, Tail-f), CloudGenix, Fortinet, Netcracker, Nokia, Versa Networks, VMware.
For the full report, including a free extract, see here. 
For more of our SDWAN research, click here. 
* With apologies to Kipling
Photo by Ishan @seefromthesky on Unsplash