Rakuten's Disruption-as-a-Service business tunes up for global domination. 
Even Tareq Amin struggled (momentarily) to explain the category that the newly revealed Rakuten Symphony entity fits into. Part SI, part ISV, with both telcos and non-telcos as customers, selling its own technology as well as reselling the products of third parties in its ecosystem, it's like nothing the telecom industry has seen before.
As if to prove the point (Rakuten doesn't do vague announcements), Symphony unveiled 1&1 Drillisch as its newest customer. Not its first customer – that was already Rakuten Mobile. And certainly not its first engagement outside Japan – in our "Who's Winning in Open RAN" report in June, Appledore credited Rakuten with a unique position as both vendor and customer in Open RAN, and second only to NEC in SI roles on Open RAN projects (ahead of IBM, World Wide Technology, Tech Mahindra).
Rakuten also offered some insights on Symphony's immediate pipeline of opportunities. For a "new entrant", it's a pretty impressive start: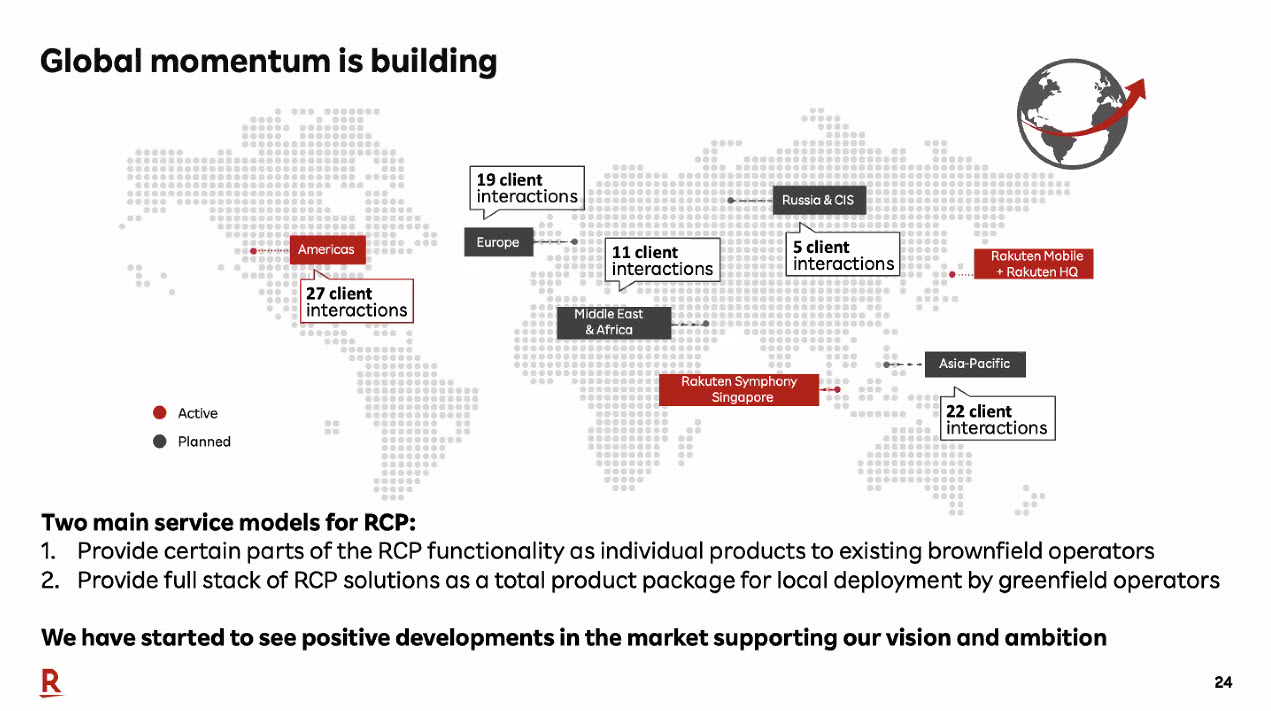 As a new distinct company – because that's what it is – Rakuten Symphony emerges with:
A private cloud platform (its unified cloud)
Network functions
Intelligent Operations (OSS, more or less)
Billing (BSS, more or less)
An ecosystem of well-known, well-regarded third parties, from silicon to software, signed-up as partners
More than that, it is the only vendor who can claim first-hand, operational knowledge of running a large-scale network for telecom based entirely on open principles. They really did write the book on this. As CEO Micky Mikitani put it: "Everyone is talking about open RAN. But the only ORAN running in the world is Rakuten. We will be the front runner and the major player for this new standard – and profitable."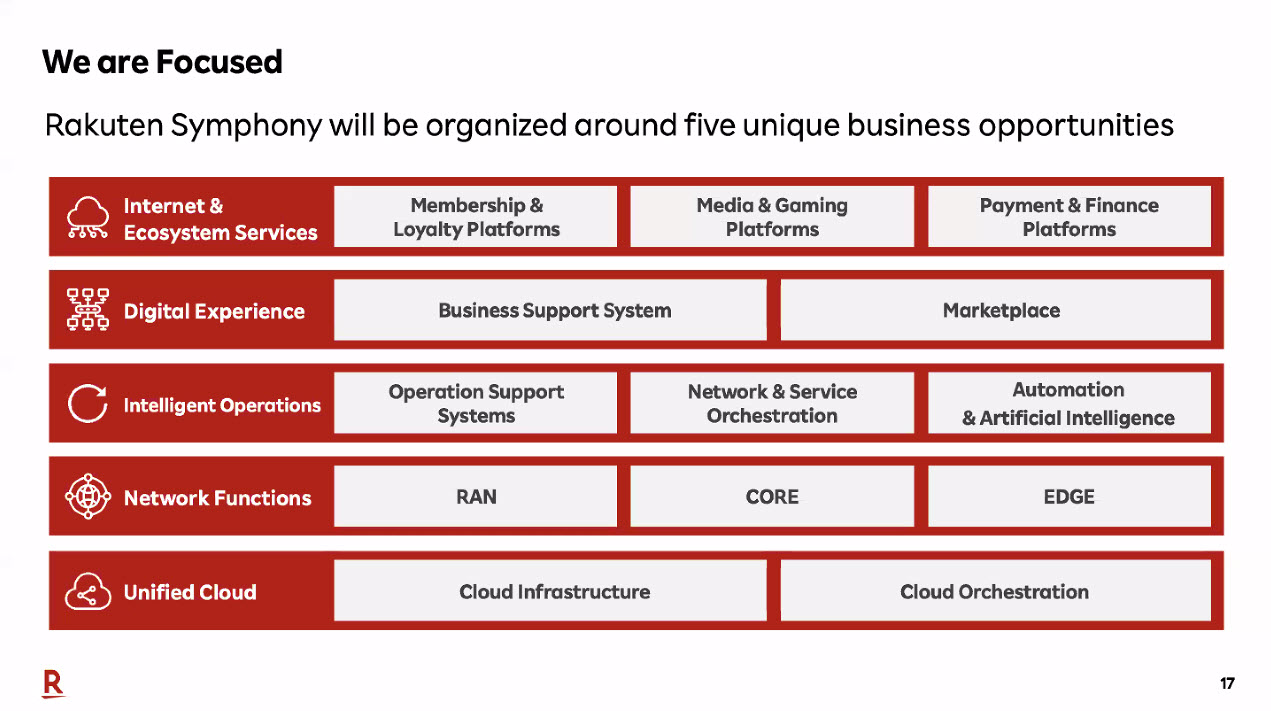 In an earlier briefing, Tareq was at pains to remind the market that "Rakuten is not a telco. We're an internet company", positioning the 1&1 deployment as "Rakuten 2.0". Characteristically, that's both bold and perfectly clear, and precisely what the Rakuten-in-telecom mission has been about for a long time. Not just Japan. Definitely not just Japan. Miktani reinforced the point, telling investors that the incremental cost of delivering the 1&1 network is low, due to the investments already made in Rakuten RCP and establishing Rakuten Mobile.
Miktani is aiming for Rakuten to be a big player in the $150bn a year global telecom market. And the potential to upsell telco customers with a portfolio of existing Rakuten Group digital services is a differentiator that will appeal to other operators.
Telcos around the world should be delighted. Amidst all the talk of vendor diversification, Symphony arrives fully formed, not with a lightweight radio unit here or a tiny form factor DU there, but a whole darned alternative network offering, coming awfully close to challenging the very largest players in both network kit and systems integration. At least in some opportunities.
In one sense, Rakuten buying the remaining minority stake in Altiostar does not make much difference. It's not entirely unexpected, there are no particular "synergies" (the two companies already have extensive experience working together) and no obvious reason to change anything much on either side in execution terms.
There's also no less opportunity in Open RAN for the other vendors who have established an early lead in the market –  such as Mavenir and Parallel Wireless. If anything, it helps support the idea of Open RAN as an even more viable successor to today's RAN.
Yet the arrival of Symphony looks like a significant development in the market. A new kind of vendor, and one that clearly has distinctly different value proposition for other mold-breakers and innovators. 
It's very Rakuten. We're calling it "Disruption-as-a-Service".
Welcome, Symphony.
Rakuten features along with BT, EE, Lumen and others in our new research report, "Disaggregation for Growth: Telco-as-a-Platform". A free extract from the report and full Table of Contents is available here.