Futurenet World is a top-notch experience. Not only slick production, but thoughtful curation of speakers and content.
Zeroing in on Network Automation
Futurenet World has zeroed in on network automation as its central theme, which still gives a lot of room for an interesting program. That focus frees up the program from extraneous discussions on billing, CRM, data modelling, wavelengths, optical fibre production, "broadband", policy and regulation, all of which have their place, but usually at much duller events.
In the opening panel session, Enrique Blanco explained that automation isn't so much about any one thing – as about everything. Telefonica is building what it calls a "new operating model" for telecom, and an OSS that is "fully different" from what has gone before. And this isn't just talk. Telefonica has a clear program over the next few years for large-scale implementation of its open, software- and AI-driven network principles, most notably in Open RAN.
Telecom's Enterprise Challenge
The idea of network as a platform enabling innovation (by others) was a recurring theme. This is as much a cultural challenge as a technical one. Lester Thomas (Vodafone) and Kim Larsen (T-Mobile) referenced programs aimed at fostering and enabling new third-party application developers to leverage their open, programmable networks – particularly for IoT. For example, using a "connected bike" (no, not this one) to crowdsource air quality monitoring.
Several speakers talked about enterprise customers wanting CSPs network platforms to be more integrated into their enterprise infrastructure. The combination of additional network telemetry, and the ability to alter the network's parameters through APIs, means that enterprises want more direct control, rather than what Colt has called the "Procurement-to-Procurement" interface. Colin Bannon at BT Global said this included enterprises looking to integrate network change functions within enterprise apps such as ServiceNow. A far cry from being sidelined as commodity connectivity providers, then.
Telecom is learning not merely to live with uncertainty, but to positively relish in it.
The talk was of new, untried and unknowable customer needs. So it is readiness to adapt – whatever the future holds – that is most highly valued. Even over cost savings, if the various polls are to be taken at face value.
The discussion of edge is still undergoing some clarification, and attitudes vary, particularly driven by geography. The potential (and need for) edge infrastructure in small country like the Netherlands is radically different from, say India, or the US. We can expect to see greater precision on discussions about edge going forward – on those applications which give operational benefit to CSPs, vs those which deliver a clear benefit to end customers.
Farmers and Fisheries
There were a lot of "where are we?" opening questions, reflecting the fact that telecom's various transformation efforts remain a work in progress, with much to be done. And the work still to be done varies greatly from CSP to CSP. But at least there was consensus that real progress requires a combination of technology, mindset change (in short: "closed" to "open", in every sense), process change (from siloed/vertical/domain to service/horizontal), and greater level of understanding of customers' problems and context. One size won't fit all – but you'll still need it to be automated.
The session on 5G and industry moderated by Chris Lewis contained some challenging truths for telcos. Especially for 5G, telcos' relevance will depend on them (literally) getting into the weeds with their customers in agriculture, their feet wet (literally) on fishfarms, and hands dirty (literally) in manufacturing. That will mean changing telco sales engagements from (as Ibrahim Gedeon put it) "minutes and (mega)bytes" to business solutions partnerships. It's the very opposite of "zero-touch". It's an entertaining panel.
AI & Automation
Orange believes AI can bring value to every phase of network lifecycle: Design/Build, Run, and Optimize. It also explained some of its use of Google Cloud Platform (Appledore recently published a profile on GCP). FTTH maintenance using AI has led to substantial reduction in field interventions.
In a panel on AI and Automation moderated by Appledore's Patrick Kelly, Airtel provided insights into the market squeezes that mean automation truly is an existential issue for Indian telcos – hundreds of millions of low-APRU customers; huge rise in data consumption; extreme competition and a vast and varied geography. The perspective from Randeep Sekhon was especially compelling.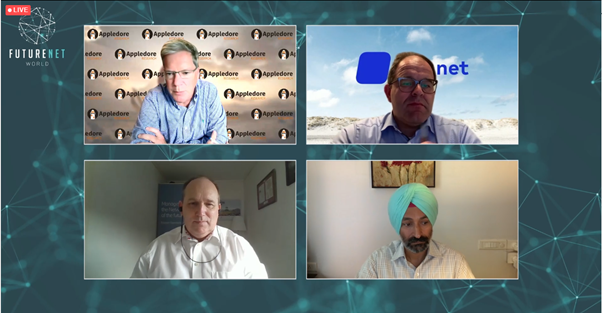 The same panel revealed that concerns about trusting AI are being rapidly overtaken by practical realities – there's no way to run even today's networks with human intelligence alone. And progress is already being made on closed-loop resolution of sizeable percentage of day-to-day network problems.
Appropriately, FutureNet closed with an interview with Rakuten's Tareq Amin. The discussion is wide-ranging, but if you really want to understand the Future of Networks – that's just about the best place to start.
This is an edited version of artlcle published on LinkedIn. You can read the whole article here. 
Appledore Research provides analysis of many of the topics covered in FutureNet World, including Network Automation, Open RAN, 5G and Industrial Automation, Edge and Telco Cloud, Security as well as vendor profiles and market share reports. Follow Appledore for updates.