Security in the Network Cloud
By and large, our associations with "cloud" are positive ones: distributed, flexible, lightweight. But the emergence of the network cloud presents some major challenges for both telcos and their enterprise customers to grapple with.
The #1 shared challenge in the list is, without question, security. WIth cloud there is no longer a perimeter that can be used to keep the bad guys out. Meaning that traditional security practice is no longer enough.
On the plus side, we see a new, multi-billion dollar growth opportunity for CSPs and suppliers over the next five years in addressing this problem. However, from our discussions with communications service providers, it is clear that established frameworks for thinking about security are rapidly dissolving. Telecom services re-engineered as virtual functions running in a cloud is just one new factor. Another is enterprise's use of public cloud as part of an overall service provided by a CSP.
Enterprises themselves are experiencing radical change. Not only does a typical CIO face a bewildering range of security offerings and suppliers, but they also must embrace situations previously considered intolerable: large-scale remote working, connection to third party networks and continuous changes in configurations.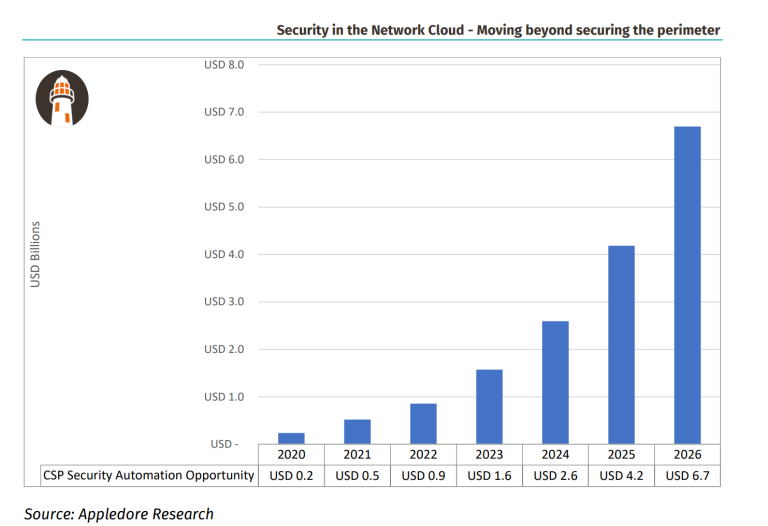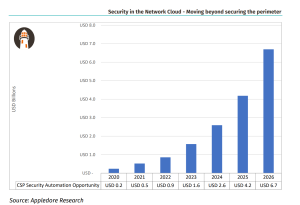 It's time to rethink the security landscape.
The new security landscape presents both opportunities and threats, for CSPs and vendors.
For enterprises, in the era of the telco network cloud, services may come and go, be created in collaboration with a supplier, and so security must be built-in to the process of developing new services.
For CSPs there are new market opportunities to address, and new ways to differentiate, using a fresh understanding of security that speaks to the context of today's enterprise customers.
Vendors of all stripes now have an opportunity to play in the space both directly, and indirectly. Their decision on which way to go will have a fundamental effect on their product, marketing and delivery strategies.
The market for security software, services, technology has never been in a greater state of flux that it is today. The inevitable security challenges arising from cloudification of telecom must now be understood, faced up to, and addressed.
New research: making sense of security in the network cloud
In our extensive new research report, Appledore puts the radical changes in telecom network security into context.
We survey the market outlook for security, specifically as it relates to the new services and offerings that CSPs can monetize.
We consider how enterprises can take full advantage of the cloud, yet with confidence in its security.
Just as importantly, we also propose a rational new framework for thinking about – and making sense of – the huge new complexity in what it now means to talking of securing telecom networks.
The Appledore research report Security in the Network Cloud is now available. A free sample of the report including an executive summary and full table of contents can also be downloaded (registration is required).
Companies referenced in this report include:
Allot, Amazon Web Services, Asavie, Juniper, Microsoft Azure, Nokia Nuage, Telekom Austria, VMWare
Image courtesy of Marek Bernat/freeimages.com